The need for basic necessities still lingers after Memorial Day weekend floods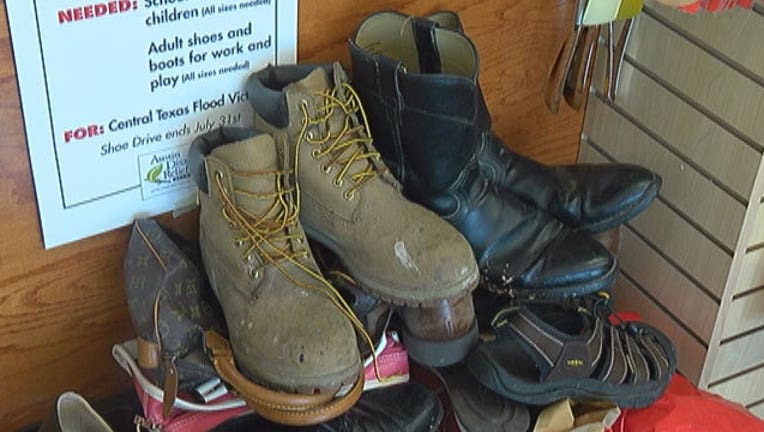 article
Two months after the floods that ravaged Central Texas, there is still a great need for basic essentials like clothes and shoes. The Austin Shoe Hospital is partnering with the Austin Disaster Relief Network to help flood victims get back on their feet, one pair of shoes at a time.
In the blink of an eye, floodwaters washed away what many people in Central Texas worked all their lives for.
"These people lost everything and they don't have any shoes to go to work, the kids don't have any shoes to go to school I live in Dripping Springs so it hit close to home. Some of the victims were friends of my family," said Carroll Kelly, President and CEO of Austin Shoe Hospital.
The Austin Shoe Hospital CEO is partnering with The Austin Disaster Relief Network to open the 11 store locations around Austin for donations.
"We're trying to get people to donate gently worn, or shoes people are ready to wear. If they do need some repairs, we're going to repair the shoes," said Kelly.
The shoe drive was supposed to end on Friday July 31, but Kelly says they'll extend it to the second weekend in August.
"We've probably raised a thousand shoes so far," said Kelly.
Down the way at the Hope Family Thrift Store, ADRN is providing clothes and shoes for the 415 families who need them.
"The first thing when a disaster strikes, you lose everything, you want something to feel like "a" it's yours and you're back to beginning to get back on your feet," said Daniel Geraci, Executive Director of The Austin Disaster Relief Network.
Geraci says they've gotten $18,000 in of donations but right now, they need help sorting through it all.
With both The Austin shoe Hospital and ADRN coming together for the cause, they are hoping volunteers will come in droves. Organizers say there is nothing more rewarding than helping families in need.
"We're able to fill that void and serve that need. It's great, said Kelly.
A lot of people do not wake up each day and worry if they have shoes in their closets to wear, but for those affected by the flood, just a simple pair could be the biggest way to show you care.
"When the last family, the last house, the last hammer, the last nail gets nailed in. We'll be there for them"
If you wish to donate you can drop brand new or gently used shoes off at any of the 11 Austin Shoe Hospital locations. You can also donate shoes and clothing to ADRN's Hope Family Thrift Store.