Thousands in military detained as Turkey's government reasserts control after failed coup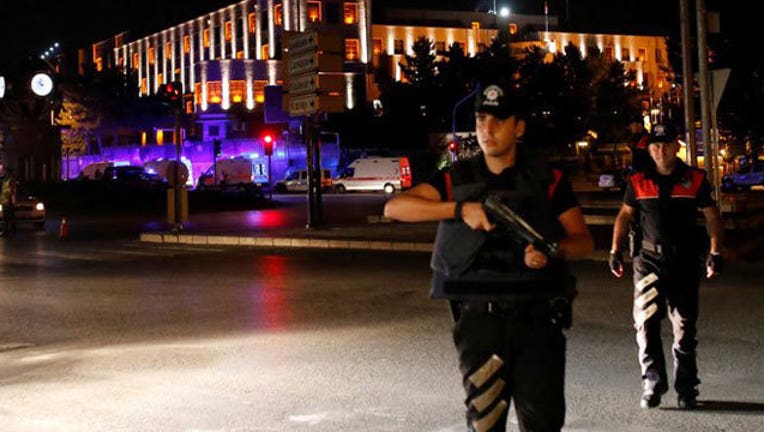 article
Turkey's elected government on Saturday rounded up thousands of soldiers, including high-ranking officers, as it moved quickly to reassert control after a failed military coup to oust President Recep Tayyip Erdogan.
Turkey's Prime Minister Binaldi Yildirim called the attempted coup a "black stain on Turkish democracy" that left 161 people dead and 1,440 wounded.
He said 2,839 military personnel had been detained as part of a crackdown on coup plotters.
Erdogan was on a seaside vacation when tanks rolled into the streets of Ankara and Istanbul. He flew home early Saturday and declared the coup to have failed.
"They have pointed the people's guns against the people. The president, whom 52 percent of the people brought to power, is in charge. This government brought to power by the people is in charge," Erdogan told large crowds after landing at Istanbul's Ataturk Airport.
Government officials blamed the coup attempt on a U.S.-based moderate Islamic cleric, Fethullah Gulen. Erdogan has often accused the cleric and his supporters of attempting to overthrow the government. Gulen lives in exile in Pennsylvania and promotes a philosophy that blends a mystical form of Islam with staunch advocacy of democracy, education, science and interfaith dialogue.
Gulen, however, said he condemned "in the strongest terms, the attempted military coup in Turkey" and sharply rejected any responsibility for the attempted coup.
Still, the government pressed ahead Saturday with a purge of judicial officials, with 2,745 judges being dismissed across Turkey for alleged ties to Gulen. Ten members of Turkey's highest administrative court were detained and arrest warrants were issued for 48 administrative court members and 140 members of Turkey's appeals court, state media reported.
After a Turkish military helicopter landed in Greece Saturday after sending a distress signal, the Turkish goverment demanded the prompt return of eight 'treacherous officers' on board the aircraft.
The eight were arrested in Greece for entering the country illegaly and were identified as two majors, a captain and five privates by Anadolu Agency, a state-run news organization.
After landing on Greek soil, they requested political asylum and Greek officials said they would consider the request. The officials also said they would return the helicopter to Turkey "as soon as possible."
The coup attempt was swift and came as a surprise to allies in the region. Forces loyal to Erdogan put down the coup attempt in a night of explosions, air battles and gunfire.
Erdogan vowed that those responsible "will pay a heavy price for their treason."
Read more on FOX NEWS.