Thousands of birds dead in Utah after suspected avian botulism outbreak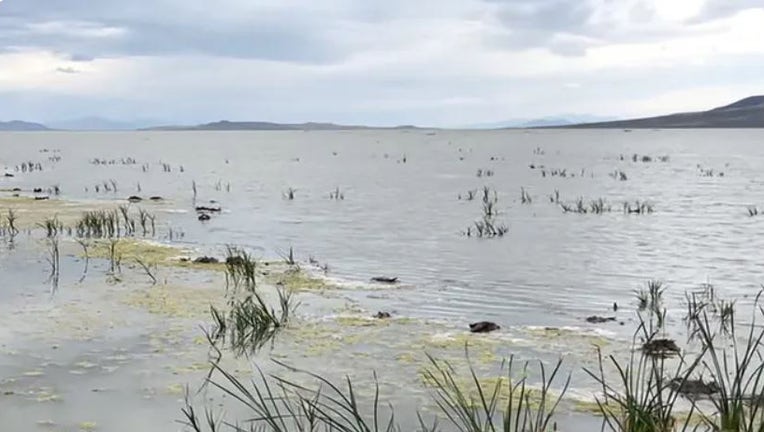 article
Thousands of birds in northern Utah have died due to a recent outbreak wildlife officials believe is avian botulism.
Biologists with the Utah Division of Wildlife Resources said they discovered dead and sick birds in mid-September in the Willard Spur and Harold Crane waterfowl management areas. 
Several birds were gathered and examined to determine if they were infected with a disease. The testing revealed that the birds did not have highly pathogenic avian influenza, which has had fewer cases in the state this year, according to the Utah DWR. The final test results are not yet available, but experts said they believe that avian botulism may have caused the birds' deaths.
Avian botulism is caused by a toxin produced by Clostridium botulinum bacteria, which is made in warm water with low oxygen levels during summer and fall, according to wildlife officials. The disease is a problem in Utah, usually occurring between July and September, especially during hot and rainy weather. 
OVER 300 MILLION BIRDS START ANNUAL FALL MIGRATION TO THE SOUTH FOR THE WINTER
The stagnant pools of water that form during these conditions provide a breeding ground for the anaerobic bacteria that causes avian botulism, wildlife officials add. This can make birds sick and cause them to die. 
According to state biologists, the number of birds affected by avian botulism in Utah was unusually high this year. While it is difficult to say how many birds died, officials estimate that tens of thousands were affected, especially in the Bear River Bay and Willard Spur Waterfowl Management Area.
"Our wetland managers strive to make adjustments in their water management practices on state waterfowl management areas in order to keep fresh water flowing, which can help minimize the impacts of avian botulism," DWR Waterfowl Coordinator Jason Jones said. "Many of the waterfowl management areas were originally created to reduce the botulism outbreaks that occurred along the river deltas a century ago."
Avian botulism primarily affects waterfowl, gulls and shorebirds in stagnant water, often resulting in the discovery of sick or dead birds near the shoreline. Signs of the disease include the inability of a bird to hold its head up and a bird flapping its wings, but not having the strength to take off, wildlife officials said.
RARE FLAMINGO SIGHTINGS ACROSS US LIKELY A RESULT OF IMPACTS OF HURRICANE IDALIA, EXPERTS SAY
What do I do if I encounter dead birds?
When encountering sick or dead birds, it is important to follow these safety precautions, the Utah DWR said. Although rare, avian botulism outbreaks can pose a risk to humans.
Hunt waterfowl that are in flight, as this is usually a sign of good health.
Refrain from hunting or eating birds that exhibit signs of sickness or weakness.
Cook meat thoroughly to ensure that the toxin is denatured by the heat.
Botulism can affect dogs if they consume the meat, so keep your dogs away from sick, dead or dying birds.
SEE IT: ENTANGLED EAGLES STRUGGLE TO STAY AFLOAT AFTER MID-AIR FIGHT NEAR MINNEAPOLIS
Wildlife officials advise that if you encounter sick birds, you should refrain from handling or touching them. Attempting to catch or feed them could be detrimental as it may provide them with unsuitable food. It is also recommended that you keep a safe distance from the birds to avoid causing them additional stress.