Three shootings in four days leave US unsettled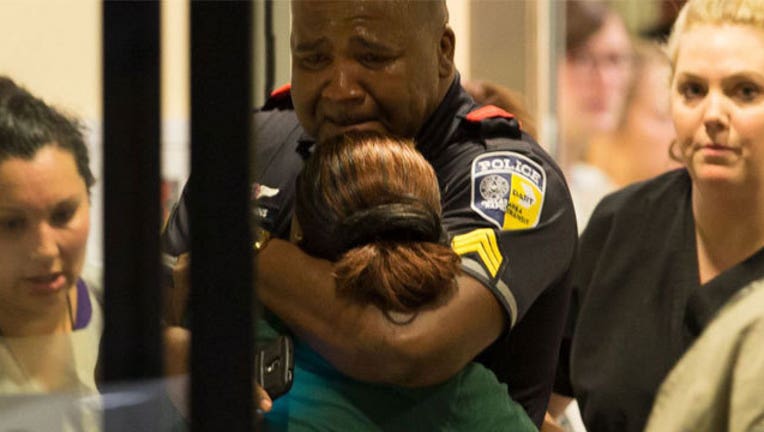 article
In the span of four days, the United States has had to come to terms with the deaths of two black men at the hands of police — the first caught on video and the aftermath of the second livestreamed on Facebook — as well as the deadliest day for U.S. law enforcement since 9/11. The shootings in Louisiana, Minnesota and Texas are all in the initial investigation stages. Here's what we know about each of them:
___
BATON ROUGE, LOUISIANA
WHAT HAPPENED?
Alton Sterling, 37, was fatally shot Tuesday during a struggle with two police officers outside of a convenience store where he was selling CDs. Sterling, a father of five, was black; both officers are white. Police said that Sterling — who was a convicted felon and barred from legally carrying a gun — was armed and an eyewitness said he had a gun in his pocket.
WHAT WAS THE REACTION?
Sterling's shooting was caught on cellphone video by an anti-violence group. It quickly spread online and sparked several days of protests in the city where 54 percent of the population is black and more than 25 percent live in poverty.
One protester, 29-year-old Damond Laurance, said: "It's everything adding up. As a race, as a culture, we're standing up for something. We're coming together."
Both officers involved — four-year member of the department Blane Salamoni and Howie Lake II, who was on the force for three years — were placed on administrative leave and had prior "use of force" complaints.
Baton Rouge Police Chief Carl Dabadie Jr. has said there are still questions about what happened.
WHAT'S NEXT?
The U.S. Justice Department has opened a civil rights investigation into the shooting.
In announcing the Justice Department investigation, Democratic Gov. John Bel Edwards was accompanied by black Democrats from Baton Rouge who praised him and others for quickly asking the federal government to get involved.
"We know there's going to be an external investigation. I think it makes all the difference in the world," said state Sen. Regina Barrow.
___
FALCON HEIGHTS, MINNESOTA
WHAT HAPPENED?
Philando Castile, a black 32-year-old cafeteria supervisor at a public school, was shot Wednesday night in suburban St. Paul, Minnesota, during a traffic stop that involved two officers. He died a short time later at a hospital. Castile's girlfriend, Diamond Reynolds, says he was shot while reaching for his wallet.
Reynolds began livestreaming on Facebook from the vehicle shortly after Castile, who is bloodied and moaning before slumping in the driver's seat, had been shot. She describes being pulled over for a "busted tail light" as an officer with the St. Anthony Police Department, which polices Falcon Heights, points a gun into the car and speaks with her, saying "I told him not to reach for it."
The Minnesota Bureau of Criminal Apprehension, which is leading the investigation, has not released details about the incident.
WHAT WAS THE REACTION?
Black Lives Matter protesters gathered that night outside of the Minnesota governor's mansion, which is close to the shooting site, and hundreds resumed protests Thursday. St. Paul Public Schools said in a statement that Castile was a "team player who maintained great relationships with staff and students alike."
The officers involved, Jeronimo Yanez and Joseph Kauser, both had been with the St. Anthony Police Department for four years and were put on administrative leave. Yanez fired the shots. Their races are not known, though Reynolds described the officer who shot Castile as Asian.
WHAT'S NEXT?
The state Bureau of Criminal Apprehension is investigating the shooting. Ramsey County Prosecutor John Choi said Friday that he asked for a "prompt and thorough investigation," but declined to comment on it. He also said that he'd decide whether to turn the case over to a grand jury once the state presents its findings to his office.
___
DALLAS
WHAT HAPPENED?
Five police officers were fatally shot and seven were injured when shots were fired during Thursday night's downtown protest over the deaths of Sterling and Castile. Two civilians were also injured.
Dallas Police Chief David Brown initially blamed "snipers," but Homeland Security Secretary Jeh Johnson said later Friday that "there appears to have been 1 gunman."
Army veteran Micah Johnson, 25, was killed by a robot-delivered bomb after a standoff with police.
Authorities said that Johnson, who was black, told officers he was upset about recent shootings and wanted to kill whites, "especially white officers." The races of the officers who were shot have not been released.
WHAT WAS THE REACTION?
Video from the scene showed protesters marching along a street when shots erupted and the crowd scattered, seeking cover. Officers crouched beside vehicles, armored SWAT team vehicles arrived and a helicopter hovered overhead.
Brown said at a prayer service Friday that the attack was "well planned" and that the force "won't rest until we bring everyone involved to justice."
Dallas Mayor Mike Rawlings said that it's within people's rights to protest, but that protests can "put our police officers in harm's way."
Republican state Rep. Roger Williams blamed the words and actions of President Barack Obama and other prominent leaders for contributing to the deadly violence.
Center for Media Justice director Malkia Cyril defended the Black Lives Matter movement, saying it "advocates dignity, justice and freedom, not the murder of cops."
WHAT'S NEXT?
Authorities are investigating the shootings, and have provided few details.