The best-selling car in America is going hybrid-only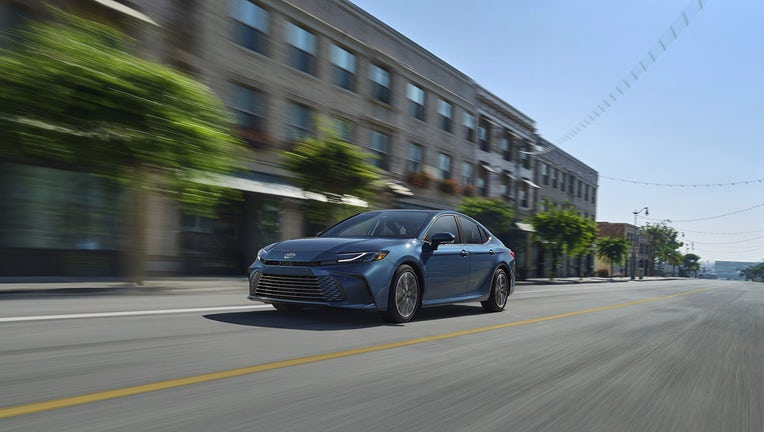 article
LOS ANGELES - The top-selling sedan in the U.S. is going hybrid-only. 
The next-generation Toyota Camry will be exclusively hybrid, offering a combination of power and fuel efficiency "that is ready to take on the daily drive," Toyota announced this week. In addition to the shift to a Hybrid powertrain, the 2025 Camry will also come with all-wheel drive for the first time. 
The new Camry joins other hybrid-only Toyota vehicles, including the Sienna minivan, Venza SUV, and the Prius.
Toyota said its ninth generation Camry "delivers a sleeker, athletic look to the popular sedan's design" and will include new exterior color options called Ocean Gem and Heavy Metal.
The new camry comes with Toyota's fifth-generation gas-electric hybrid powertrain – combining the 2.5-liter four-cylinder engine with two electric motors to make a standard 225 net combined horsepower on front-wheel drive models and 232 horsepower on electronic on-demand all-wheel drive equipped models.
The 2025 Toyota Camry is pictured in a provided image. (Credit: Toyota)
The 2025 Toyota Camry is expected to arrive at dealerships next spring, the Japanese automaker said.
The unveiling comes after Toyota announced an additional $8 billion investment in the hybrid and electric vehicle battery factory it's constructing in North Carolina, more than doubling its prior investments and expected number of new jobs.
Toyota projects the new investment will create about 3,000 additional jobs, bringing the total to more than 5,000 jobs, when its first U.S. automotive battery plant begins operations near Greensboro in 2025. 
The plant will serve as Toyota's epicenter of lithium-ion battery production in North America and will be a key supplier for the Kentucky-based plant tasked with building its first U.S.-made electric vehicles, the company said.
Toyota said it aims to sell 1.5 million to 1.8 million electric or hybrid vehicles in the U.S. by 2030.
Hybrid vehicles, trucks retain most value over five years, study finds
A recent analysis from iseecars.com of more than 1 million vehicles showed which cars depreciate the fastest – and which ones hold their value the best.
Before the pandemic, the average car would lose about half of its value in five years. Today, that number is down to 38.8% on average, but some cars have a notably higher depreciation than others, according to the analysis.
The study looked at more than 1.1 million vehicles sold from November 2022 through October 2023. 
It found that electric vehicles are the worst at holding their value, losing 49.1% in five years. Trucks and hybrid vehicles, meanwhile, were found to retain the most value over five years, losing between 35 and 37%.
This story was reported from Cincinnati. The Associated Press contributed.