Trucker spends 4 days in wilderness after GPS sends him on wrong road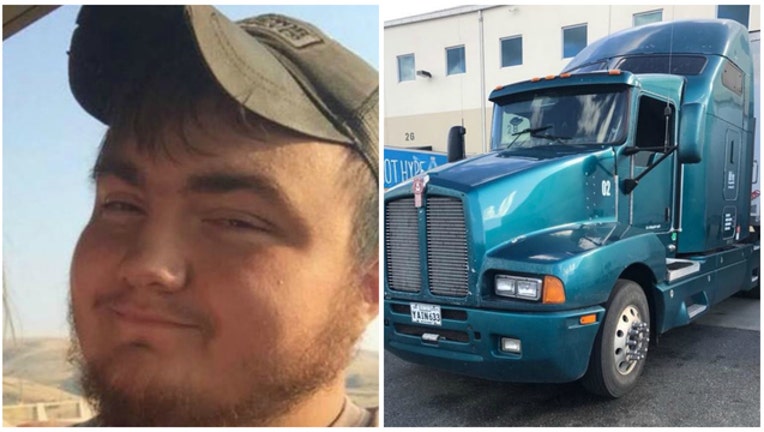 article
 LAGRANDE, Ore. (AP) -- A trucker who was missing for four days in a snow-covered part of Oregon after his GPS mapping device sent him up the wrong road walked 36 miles (58 kilometers) and emerged safely Saturday from a remote and rugged region of the state.
Jacob Cartwright, 22, showed up near the town of La Grande, where an intensive search involving aircraft had been taking place since he went missing Tuesday.
Cartwright was being evaluated in an emergency room but appeared OK, said nursing supervisor Danita Thamert at Grande Ronde Hospital in La Grande, in eastern Oregon.
"He looks to be pretty good," she said. "He's a big boy. He kept moving and stayed warm enough. So it doesn't look like he's going to have too many injuries."
Cartwright's boss, Roy Henry of Little Trees Transportation, said Cartwright was driving a truckload of potato chips but the tractor-trailer got stuck after he took the wrong turn in an area with limited cellphone coverage.
The trucker started walking without any food or water just after midnight Wednesday, wading through snow at some points. He didn't stop until Saturday morning when he neared La Grande, where he lives, Henry said. From there, the trucker got a ride from a passing motorist to his home.
Cartwright's wife returned home from meeting with local officials about the search for her husband only to find him in their house.
"He took his cowboy boots off and put on flip flops," Henry said.
Cartwright told his wife "he was hurting real bad and was real cold. So she packed him up and took him to the hospital."
Temperatures in the region have been dropping into the 30s at night.
Henry asked Cartwright why he didn't take some potato chips with him for his journey and the trucker responded, "That's worth money."
Cartwright added: "That's the load I was hauling and I didn't want to damage the property."'
Henry said Cartwright was driving the truck about 400 miles (640 kilometers) from Portland in northwestern Oregon, to the town of Nyssa near the Idaho border.
Henry said Cartwright's troubles started when he put the wrong address in his GPS at the start of his trip. It told him to turn south off Interstate 84 near the town of Pendleton.
Henry said Cartwright eventually realized he was on the wrong road and put in the correct address. The GPS then directed him to take a U.S. Forest Service road that started out paved but eventually became impassable.
"What it boils down to is a simple matter of human error," Henry said. "He made the proper effort to correct his mistake. From that point on it was out of his control. He had no reason to believe the GPS was wrong."
Even though there was limited cellphone coverage, the battery on Cartwright's phone eventually went dead.
At the hospital, Cartwright first told Henry that he hoped he would not lose his job -- and Henry assured the trucker with children ages 4 and 2 that he wouldn't.
"It was pretty much just sheer will and determination that got him out," Henry said.