Trump chastises China as US weighs North Korea response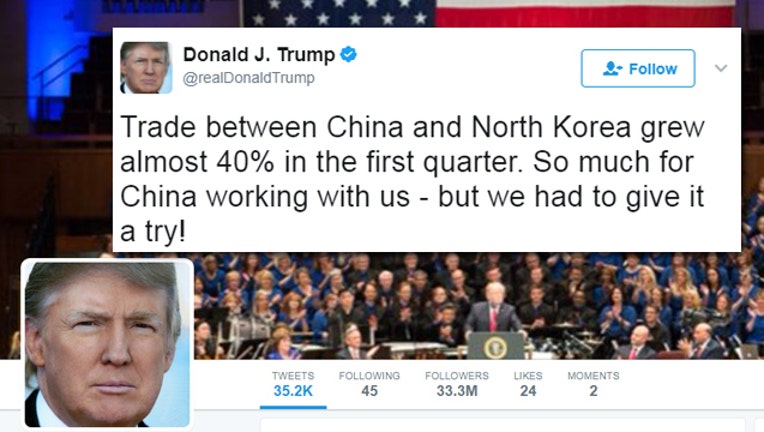 article
WASHINGTON (AP) - President Donald Trump chastised China on Wednesday for doing too little to starve North Korea of funds and exert pressure over its nuclear pursuits, as his administration searched for new ways to confront Pyongyang after its unprecedented test of a missile capable of hitting the U.S.
North Korea's launch this week of an intercontinental ballistic missile demonstrated a dangerous new reach for weapons it hopes to top with nuclear warheads one day. As the U.S. demands global action to counter the threat, the Trump administration is finding that some of the most obvious tools to increase pressure on the North have already been tried and failed.
Trump, since entering the White House, has placed a particular focus on pushing China - North Korea's biggest trading partner - to use its influence and ramp up economic pressure. Trump expressed optimism after his first meeting with China's President Xi Jinping that the two would work together effectively on the issue, but in recent days Trump has increasingly conceded the strategy has not produced fast results.
"Trade between China and North Korea grew almost 40% in the first quarter," Trump wrote on Twitter on Wednesday, moments before departing for a trip to Poland. "So much for China working with us - but we had to give it a try!"
As he flew to Poland on Air Force One, Trump spoke by phone about the North Korean threat with Egyptian President Abdel Fattah el-Sisi, emphasizing the need for countries to implement U.N. Security Council resolutions. The White House said Trump also discussed the need for nations to "stop hosting North Korean guest workers" - an issue Secretary of State Rex Tillerson also mentioned in his response a night earlier to the missile launch.
Restricting guest workers is one way the U.S. and other countries could try to reduce North Korea's access to foreign currently. There are some 50,000-60,000 North Korean workers abroad, mostly in Russia and China, South Korea's spy service has said, including at about 130 restaurants North Korea operates overseas. The workers' mission involves earning money to bring into North Korea.
Until this week's launch, North Korea had demonstrated missiles of short and medium range - but not an intercontinental missile. A Pentagon spokesman, Navy Capt. Jeff Davis, said Wednesday that the missile was a type not previously seen by the U.S., although he would not provide details. He said the missile was fired from a mobile launcher at the Panghyon aircraft plant about 100 kilometers (62 miles) north of Pyongyang, a location not previously used for missile launches.
"This was a very provocative action. It has our attention," Davis said. He criticized North Korea for not following the international convention of providing advance notice of a missile launch so that commercial ships, airliners and satellites are not endangered.
The prime danger from the U.S. viewpoint is the prospect of North Korea managing to put a nuclear warhead atop an ICBM. The latest US intelligence assessment is that the North probably does not yet have that capability.
In his initial response to the launch on Monday evening, Trump urged China on Twitter to "put a heavy move on North Korea and end this nonsense once and for all!" But he also said it was "hard to believe" that South Korea and Japan, the two U.S. treaty allies most at risk from North Korea, would "put up with this much longer."
North Korea conducts about 90 percent of its trade through China. In April, Chinese customs data said total two-way trade between China and North Korea increased 36.8 percent in the first quarter of this year compared with the same period a year earlier.
Raw data from the first quarter of this year, however, showed that total two-way trade between the sides increased by only a 7.4 percent in this first quarter. It was not immediately clear why the customs agency reported a higher growth rate.
China has long resisted intensifying economic pressure on neighboring North Korea, in part out of fear of the instability that could mount on its doorstep, including the possibility of millions of North Koreans fleeing into China. China has also been concerned that a reunited, democratic Korea - dominated by South Korea - would put a U.S. ally, and possibly U.S. forces, on its border.
U.S. officials joined South Korea and Japan in requesting an emergency meeting of the U.N. Security Council, scheduled Wednesday afternoon. And in a show of force directly responding to North Korea's provocation, U.S. and South Korean soldiers fired "deep strike" precision missiles into South Korean territorial waters on Tuesday, U.S. military officials in Seoul said.
The launch was not wholly unexpected. Daniel Coats, director of national intelligence, testified to Congress in May that the U.S. anticipated an ICBM test before the end of this year.
Secretary of State Rex Tillerson, in a statement late Tuesday released as most Americans were celebrating the Fourth of July holiday, vowed "stronger measures" to hold the North accountable, and said: "Global action is required to stop a global threat." He said any country helping North Korea militarily or economically, taking in its guest workers or falling short on Security Council resolutions "is aiding and abetting a dangerous regime."
Notably, Tillerson's statement did not mention China.
The Pentagon has spent tens of billions of dollars developing a missile defense system tailored to the North Korean ambition of attaining the eventual capability to attack the U.S. with a nuclear-armed missile. On May 30 the Pentagon successfully shot down a mock warhead designed to replicate the North Korean threat.
Pentagon spokeswoman Dana W. White said the U.S.-South Korea missile exercise Tuesday was meant to show "our precision fire capability."
___
Associated Press writers Robert Burns and Vivian Salama in Washington and Edith M. Lederer at the United Nations contributed to this report.