Trump criticizes London mayor after latest attack on city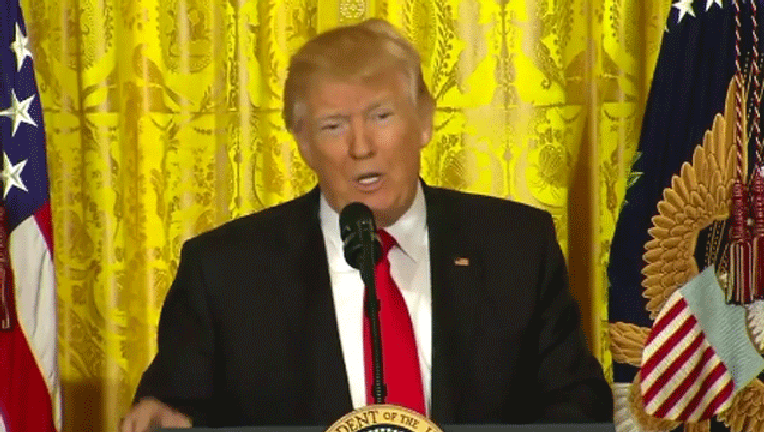 article
WASHINGTON (AP) - President Donald Trump on Sunday criticized London's mayor after he sought to reassure residents about a stepped-up police presence on city streets following the third deadly attack there in the past three months, arguing on Twitter for leaders to "stop being politically correct" and focus on "security for our people."
The mayor's spokesman said he was too busy to respond to Trump's "ill-informed" tweet.
In a series of tweets late Saturday and early Sunday responding to the attack, Trump also pushed his stalled travel ban, took on gun control supporters and pledged that the United States will be there to help London and the United Kingdom.
The vehicle and knife attack killed seven people in a busy section of London late Saturday and wounded about 50 people.
Trump challenged London Mayor Sadiq Khan for saying there was "no reason to be alarmed." Khan spoke those words in a television interview Sunday in the context of reassuring Londoners about an increased police presence they might see.
"No reason to be alarmed," Khan said, describing a more visible presence as "one of things the police and all of us need to do to make sure we are as safe as we possibly can be."
Trump wasn't satisfied and responded Sunday with a trio of tweets:
"We must stop being politically correct and get down to the business of security for our people. If we don't get smart it will only get worse."
"At least 7 dead and 48 wounded in terror attack and Mayor of London says there is 'no reason to be alarmed!'"
Trump ended with: "Do you notice we are not having a gun debate right now? That's because they used knives and a truck!"
Shortly after Sunday's third tweet, Trump left the White House and was driven to his private golf club in Northern Virginia. Despite requests, aides provided no information on his activities during several hours at the club. Sen. Bob Corker, R-Tenn., the Senate Foreign Relations Committee chairman, and former NFL quarterback Peyton Manning, both wearing golf attire, were seen getting out of the motorcade and leaving the White House after Trump returned.
Khan's office dismissed the tweet, saying the mayor "is busy working with the police, emergency services and the government to coordinate the response to this horrific and cowardly terrorist attack and provide leadership and reassurance to Londoners and visitors to our city. He has more important things to do than respond to Donald Trump's ill-informed tweet that deliberately takes out of context his remarks urging Londoners not to be alarmed when they saw more police - including armed officers - on the streets."
Trump's first comment after the attack came late Saturday. He promoted a proposed travel ban on visitors from six mostly Muslim countries and refugees from around the world that has been blocked by U.S. courts.
The Trump administration last week formally asked the Supreme Court, the highest court in the U.S., to allow the ban to take effect, arguing that restricting immigration by refugees and visitors from Iran, Libya, Somalia, Sudan, Syria and Yemen is necessary to protect U.S. national security. A date for the court to hear arguments in the case was not immediately set.
"We need to be smart, vigilant and tough. We need the courts to give us back our rights. We need the Travel Ban as an extra level of safety!" Trump tweeted Saturday after the attack.
Lower courts have blocked the proposed ban, citing various reasons, including Trump's own public statements.
U.S. lawmakers from both political parties criticized Trump for raising the travel ban and for assailing Khan.
Sen. Mark Warner of Virginia, the top Democrat on the Senate intelligence committee, said he was concerned about Trump's call for a travel ban "even though the courts have continued to turn that down."
Warner said Trump has had more than 90 days to review the procedures for admitting people from certain countries.
"If there's new procedures put in place, put those procedures in place. Don't continue to call for this travel ban, which is frankly all of the leaders in the intelligence community have said would be in effect, a slap in the face to Muslim Americans and others, and in many ways, might actually incite more incidents," he said on CBS' "Face the Nation."
Sen. Susan Collins of Maine, a Republican member of the Senate intelligence panel, said the ban was "too broad" but agreed with Trump that better immigration procedures are needed.
Former vice president and 2000 Democratic presidential nominee Al Gore said on CNN's "State of the Union: "I don't think that a major terrorist attack like this is the time to be divisive and to criticize a mayor who's trying to organize his city's response to this attack."
___
Follow Darlene Superville on Twitter: http://www.twitter.com/dsupervilleap