Trump offers help to terminally ill baby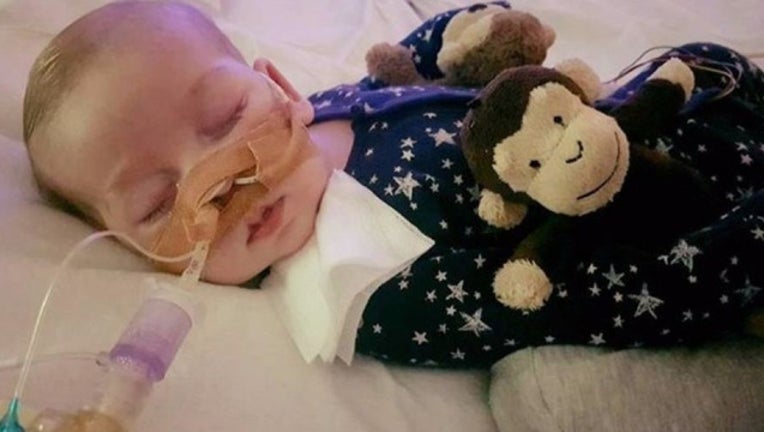 article
President Trump has tweeted an offer of support for a terminally ill British baby who is expected to be taken off of life support after the family lost a legal battle to take him to the U.S. for trial therapy.
Charlie Gard, who suffers from a rare genetic condition and brain damage, is unable to breathe unaided. Parents Chris Gard and Connie Yates said they had expected Great Ormond Street Hospital to end life support for Charlie on Friday.
But hours later, the hospital said in a statement that "together with Charlie's parents we are putting plans in place for his care and to give them more time together as a family."
Hospital officials also asked that the family and hospital staff be given "space and privacy at this distressing time."
On Monday Morning, President Trump tweeted:  "If we can help little #CharlieGard, as per our friends in the U.K. and the Pope, we would be delighted to do so."
Pope Francis called Sunday for the parents be allowed to do everything possible to treat their 10-month-old son, amending the Vatican's previous position after conservatives complained.
In a statement, the Vatican press office said Francis "is following with affection and sadness the case of little Charlie Gard and expresses his closeness to his parents. For this he prays that their wish to accompany and treat their child until the end is not neglected."
The statement marked a shift from the views expressed by the head of the Vatican's Pontifical Academy for Life, the pope's bioethics advisory panel. In a June 30 statement, the academy president Monsignor Vincenzo Paglia said the parents' wishes should be respected, but that they must also be helped to understand the "unique difficulty of their situation."
Last Tuesday, the parents lost a bid to take Charlie to the U.S. for trial therapy when the European Court of Human Rights sided with earlier rulings that continued treatment would cause "significant harm" and that life support should end. Specialists have said the proposed therapy wouldn't help Charlie.
The appeal was the last legal option in the couple's four-month battle. After the final ruling, the hospital said there would be "no rush" to make any changes in Charlie's medical care.
His parents had complained that the hospital wouldn't allow Charlie to be brought home to die.
The boy's parents have released a video saying "we're not allowed to choose if our son lives and we're not allowed to choose when or where Charlie dies."
Charlie's case has gained attention online, raising nearly 1.4 million pounds ($1.8 million) on GoFundMe to send him to the U.S.
Yates has said previously that the funds will be used to support other children with similar genetic disorders should they lose their case.
The Associated Press contributed to this report.