UAW strike update: Strike expands against GM; Stellantis lays off more employees
DETROIT (FOX 2) - Thousands of General Motors joined the picket line Tuesday as the UAW strike expanded.
About 5,000 UAW members walked out of Arlington Assembly, where the Chevrolet Tahoe, Chevrolet Suburban, GMC Yukon, and Cadillac Escalade are built.
The move to strike Arlington comes a day after GM shared its third-quarter sales numbers, which included an increase in sales across all the automaker's brands.
"Despite having made $10 billion in profits in the past nine months, breaking revenue records for another consecutive quarter, and beating Wall Street expectations, GM's latest offer fails to reward UAW members for the profits they've generated," the union said in a statement.
GM responded in a statement, calling the strike "unnecessary and irresponsible."
"Last week, we provided a comprehensive offer to the UAW that increased the already substantial and historic offers we have made by approximately 25% in total value," the automaker said.
It's the second time this week that the strike has expanded. On Monday, workers at Stellantis' Sterling Heights Assembly were added to the strike.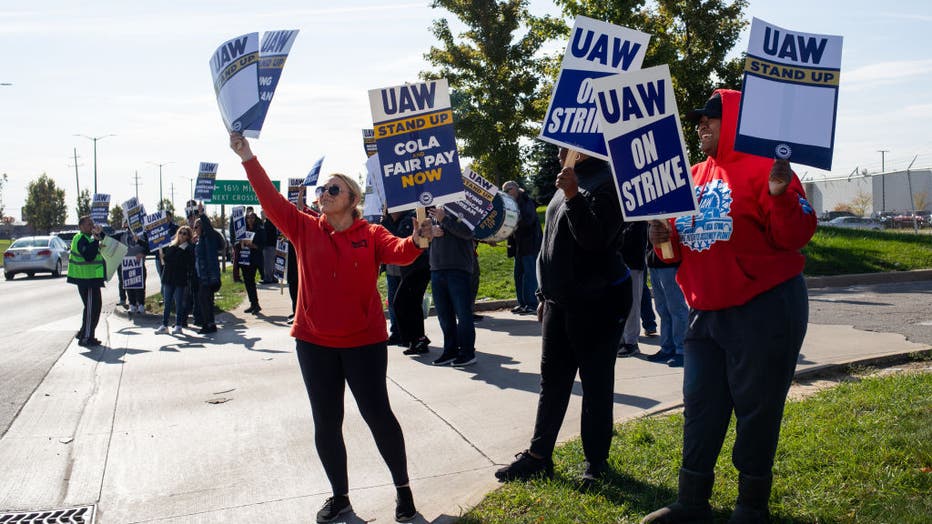 United Auto Workers (UAW) members and supporters with on a picket line outside the Stellantis Sterling Heights Assembly Plant in Sterling Heights, Michigan, US, on Monday, Oct. 23, 2023. UAW union members at Stellantis NVs lucrative pickup truck plan
On Wednesday, Stellantis announced that it was laying off 525 more employees at Sterling Stamping and Warren Stamping as a result. The two plants provide stamped parts for the Ram 1500, which is the truck that Sterling Heights Assembly builds. 
More than 2,000 Stellantis workers have been laid off since the strike began Sept. 15.