Uber breaks ground on new corporate facility in Dallas
DALLAS - Ride-hailing company Uber broke ground Friday on a new office building on the edge of Downtown Dallas and Deep Ellum.
The new space will soon be the company's second largest office – behind the San Francisco headquarters.
In exchange for $36 million in incentives, Uber promises to bring 3,000 high paying jobs to fill up the nearly 500,000 square foot tower.
Texas Gov. Greg Abbott and Dallas Mayor Eric Johnson were at the groundbreaking ceremony with Uber's CEO.
While the company recently laid off 350 people, to ease investor's concerns that the company is losing too much money, leaders at Friday's groundbreaking said they believe the company is on the cusp of changing history.
"The decision to be in Dallas was driven by partnership with state of Texas. Also because of the depth of Texas labor market, and talent we want to recruit," Uber CEO Dara Khosrowshahi said.
Khosrowshahi credited Texas' business friendly environment with the company's decision to build its second largest corporate hub in Dallas.
"What's different about Uber is we are a technology company that innovates at border of digital and physical," she said. "You push button, car shows up, push button, food shows up. Difficult, demanding, but great partnership with Texas and Dallas, and could find people up for building that kind of innovation."
Make that 3,000 highly compensated people.
Dallas County Judge Clay Jenkins has already done the math.
"These jobs are guaranteed to be over $100,000 a year, I'm told they will probably be over $130,000 a year," he said. "That's a $400 million payroll right here in middle of Dallas."
Beneath all the warm fuzzy talk about the great partnership with Dallas and Texas, is also a lot of cash.
The state has offered a grant of $24 million to Uber, and the county is offering more in tax abatements.
"Most generous we've offered, drop in the bucket when you look at effect on quality of life," Jenkins said.
But he added that if Uber doesn't deliver.
"They won't get the tax abatement," Jenkins said.
Uber has been under pressure from investors to reduce its losses since it went public in May.
While the company has cut 1,000 jobs since July - two percent of its workforce - the owner of the new $250 million office tower that will be leased to Uber is not concerned.
"They have huge revenues. I think they will right size the ship over the next few years," President and CEO of Westdale, Joe Beard, said.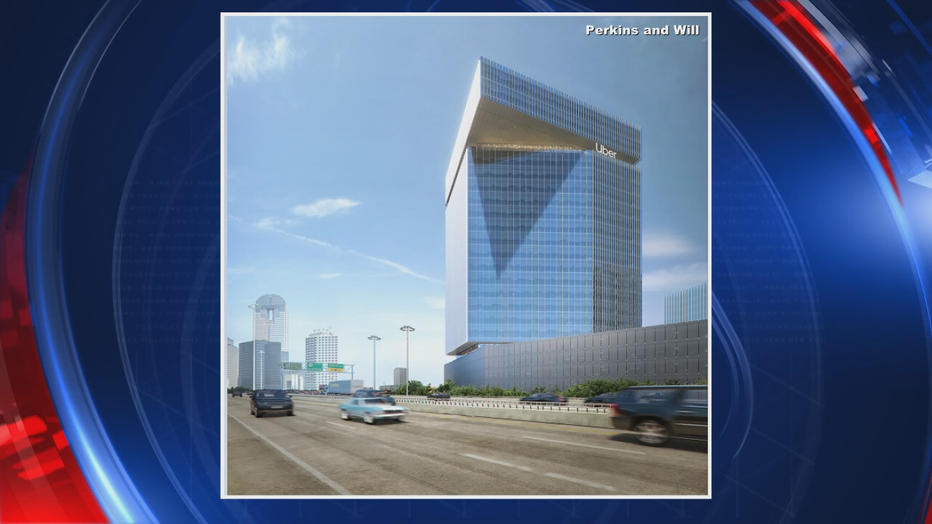 And with ideas that range from driverless cars, to flying taxis, the sky very well could be the limit.
"Texas is proud to welcome our newest pioneer," Gov. Abbott said. "Together, we will cultivate Dallas and Texas as the cradle of innovation."
Uber's CEO noted that the launch of the Uber app in Texas happened in Dallas back in 2012.
That was a time when many cities were worried about taxi companies losing revenue.
Judge Clay Jenkins said he's already heard from other companies who are interested in also moving to Dallas, to be near Uber.