Undocumented immigrant, 17, on track to be Dallas teacher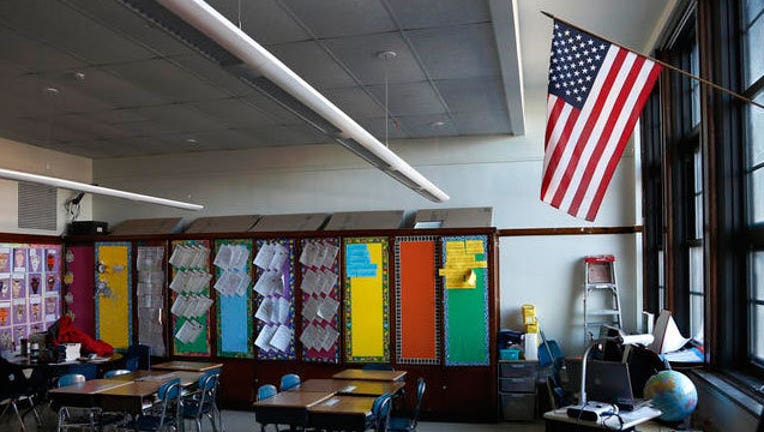 article
DALLAS –  Melisa Simon is poised, confident and a hard worker. She's also an undocumented immigrant, crossing the U.S. border from Mexico with her family at age 3. She was told by her mother early on that life in her new country would be tough.
"I knew that I wasn't going to be able to have an actual career," Melisa told The Dallas Morning News.
But she trudged on, enrolling in Samuell High School's early college program and getting a work permit under President Barack Obama's initiative for young people brought to the U.S. unlawfully by their parents.
Now she's on track to be Dallas Independent School District's youngest teacher — as a teenager.
Here's how the 17-year-old is making it happen: She completed requirements for her associate's degree this month from Eastfield College. She will graduate on June 2 with her high school diploma. In July, she'll start a program through Texas Tech University that will allow her to obtain a bachelor's degree and teacher certification in one year.
She'll be turning 19 when she begins as a bilingual elementary teacher in August 2017. The only teacher in recent DISD history to begin that young turned 20 a month after starting work.
"They prepared me really well," Melisa said of the staff at Samuell and Eastfield College. "At first I was intimidated — now I'm involved in both campuses."
Melisa lives in the Pleasant Grove area and was born in Mexico. She said that her parents put a big emphasis on education. Her mother didn't go to school past the sixth grade and her father stopped in ninth grade. She feels a need to do well for them. This means juggling classes, extracurricular activities and an evening job as an usher for Dallas Summer Musicals.
"They crossed over the border with three little kids," she said. "If they had to go through all that to bring me here, I think that I have to give back."
Petite, with long dark hair, the teen teacher will be closer in age to her students' big sisters than their moms. To put her age in perspective, there are at least 1,430 students in DISD age 19 and older. But Melisa's youthfulness conceals a fierce determination to succeed, say people who know her.
"There's definitely something there that is unique about her," said Zinab Munoz, the Dallas-area liaison for TechTeach, the teacher education program at Texas Tech that Melisa will begin this summer. "She's actually a trailblazer."
Melisa is also among 57 students who will make up the first graduating class at Samuell Early College High School. Twenty-seven of them completed enough college hours to receive an associate's degree. Others earned dozens of college credit hours, according to DISD.
Dallas ISD has five early college high school programs and will open eight more next fall.
Jennifer Tecklenburg, assistant principal over Samuell's early college program, said students come out of the program prepared for a higher education and with lasting relationships.
"The best thing that it does for them, regardless of how many credit hours they have, is that they know what to expect," Tecklenburg said. "They've been together four years. They're like a family. They support each other."
The TechTeach program partners with various Texas school districts, including Dallas, Grand Prairie, Fort Worth and DeSoto. The goal is to put teachers where they are most needed and in their home communities. The participants take their college courses online and receive hands-on training at a school in their area.
For Melisa, Dallas is home. It has been for as long as she can remember.
"All my life has really been here," she said. "I don't really remember anything from there."
She knows that some people perceive immigrants in the U.S. illegally as being bad people. She wants to shatter that belief.
"I'm proud that I'm achieving all of this because I can prove people wrong, and I can be an example," she said. "You just have to work hard for it."
Students in TechTeach earn certification in elementary general education and a supplemental certification in special education, bilingual education or English as a second language — all hard-to-fill areas in school districts.
Those who complete the program in the Dallas area are expected to commit to work in their area school district for at least two years, Muñoz said. She added that the students can expect to work hard — two years of college in one year.
"It's very intense," Munoz said.
Dallas ISD began the program in 2014 and has 83 graduates so far, according to Munoz. Participants are required to already have an associate degree and a minimum 2.75 grade-point average.
Tuition for TechTeach is $18,000 to $20,000, Muñoz said. Melisa plans to pay the costs using donations, scholarships and state financial aid. "My parents don't have a lot of money to pay for college," she said.
Melisa is thankful for the Deferred Action for Childhood Arrivals program, or DACA. The 2012 federal program provides people brought to the U.S. unlawfully as children with temporary work permits, renewable every two years, as long as they meet certain requirements.
Federal officials say it's not a pathway to permanent residency or citizenship. But for immigrants, it means living without fear of deportation and a work permit.
Of 1.36 million applications accepted under DACA through March 2016, 91 percent had been approved, according to a federal report. Most of the applicants are from Mexico, with many living in Texas or California.
Read more on FOX NEWS.