Wendy's and T-Pain team up to 'Buy U a Frosty' – how to get a free one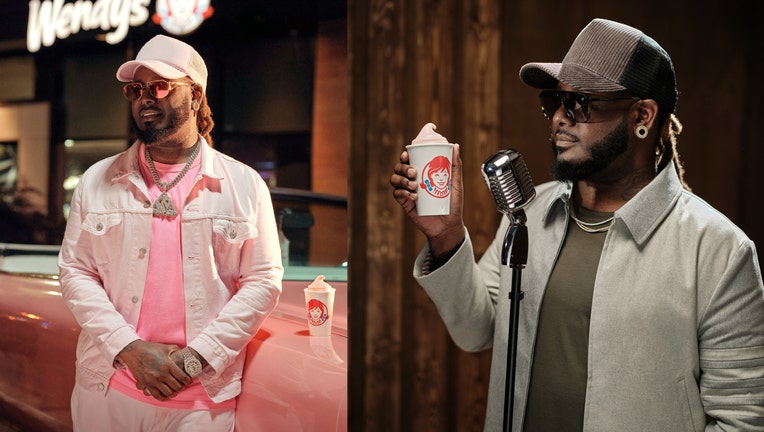 article
DUBLIN, Ohio - Some 16 years after T-Pain released his smash hit "Buy U a Drank," the rapper has teamed up with Wendy's to buy fans a different kind of cold treat.
The fast-food chain this week announced T-Pain's new remix, "Buy U a Frosty," dropping a music video on its YouTube channel. The new campaign celebrates the return of its Strawberry Frosty for the summer and the song is meant to "highlight the feeling of sheer delight while enjoying a Frosty."
RELATED: 'The Little Mermaid' McDonald's Happy Meal toys are here
Referring to himself as "Fros-T-Pain," the rapper is seen in the new music video in his studio – which then morphs into a Wendy's restaurant. 
"Imma buy you a frosty," T-Pain sings. "Now gonna take you home with me / I got money in the bank / Guess I'll take two Frostys / Let's enjoy you and me."
"We takin' bites like ooo ooo ooo ooo ooo," he continues in the song. "We lickin' spoons like ooo ooo ooo ooo ooo."
This wasn't the first time Wendy's has gotten into the music business. In 2018, the fast food chain released its "We Beefin'?" mixtape, featuring songs like "Rest in Grease" and "Twitter Fingers."
"I loved Wendy's 'We Beefin?' mixtape back in 2018, and knew I wanted to work with them when the time was right," T-Pain said in a statement. "I couldn't pass up the opportunity to remake a classic with one of the most classic menu items of all time – the Wendy's Frosty."
Wendy's offering fans a free Frosty – how to get one
Wendy's said fans can get a free small Frosty with any purchase on the app or website between June 5 and June 21.
"'Buy U a Frosty' masterfully captures the nostalgic feeling you get when you dip into a Frosty – a feeling that has the power to transport you to your favorite places and times," said Carl Loredo, the global chief marketing officer for The Wendy's Company. 
Wendy's, founded in 1969 by Dave Thomas in Columbus, Ohio, operates approximately 7,000 restaurants worldwide.
RELATED: Wendy's to test underground robot delivery for mobile orders
This story was reported from Cincinnati.