'Won't you be my students?': Teacher starts class by singing rendition of Mr. Rogers' theme song
MIDDLE RIVER, Md. - What a beautiful way to start the school day.
A Maryland teacher shared footage of himself singing a rendition of Mr. Roger's theme song with a twist to welcome his students to class every morning.
Justin Pugh, a teacher at Pine Grove Elementary School in Baltimore, started off the day with his third-grade class on March 4 with his own heartwarming version of the Mister Rogers' Neighborhood theme song and asked the kids, "could you be mine, would you be mine, won't you be my students?"
"I don't think there has been a time we needed Mr. Rogers in our world more than right now," Pugh said. "But since he's not around, it is up to us to carry on his legacy. Not just his legacy but legacies of people who taught us to be better people. Legacies of our parents, our teachers, the people we've met along the way in life because, in a way, we all are teachers in some aspect. Whether we realize it or not, whether we like it or not, someone is watching us and learning from us."
Pugh said he'd been playing the guitar since he was in college and felt privileged to be able to merge his passion with his career.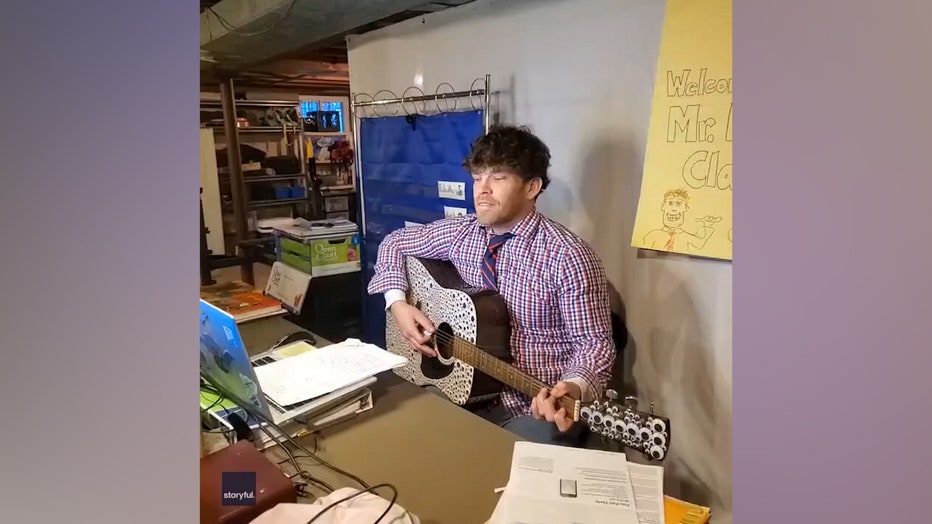 Freeze frame of Justin Pugh singing to his students via virtual learning. (Justin Pugh via Storyful)
RELATED: 77-year-old substitute teacher who lives in his car gifted $27,000 check by former student
"I used to be the guy in the dorm rooms playing the acoustic guitar and I played at coffee houses and bars. When I first started teaching, I played the guitar but I was playing like Third Eye Blind and Goo Goo Dolls and things to that end," Pugh said. "My principal walked through one day and he said, 'I'd much rather you play a song about Native Americans rather than Third Eye Blind,'" Pugh said. "So that night, I went home with my social studies book and I wrote a song about the Native Americans that we were learning about and it caught on and I started writing more and more songs that went along with our curriculum and I have a library of about 50 songs ranging from verbs to multiplying."
Since then, Pugh has played at several school assemblies, local libraries and even at Barnes and Noble.
The longtime educator believes music is an international language and it was a great way to bond with his students, some of whom he has yet to meet in person.
"I haven't seen these students in real life all year," Pugh continued. "My management is the relationships that I build with my students and it was difficult at the beginning of the year to form that bond but music is kind of that international language that we can all connect to."
In-person learning in Baltimore will begin again on April 6, Pugh said.
Before he started singing to his students to start off the morning, Pugh used to only sing an end-of-the-day song to send his kids off with a smile.
But he decided, since things were changing around his kids, he'd change up his approach to sharing his music with the children and started a morning song routine to get the day started off on a happy note.
Pugh, who has been teaching for over 20 years, said he grew up watching "Mister Rogers' Neighborhood" and felt it was important to show his students how much he valued them and wanted them to be comfortable being exactly who they are, just as Mr. Rogers taught him when he was younger.
"I tell the students, there's only one person in the whole world that's like you and that's you yourself and people can like you exactly how you are. So I want them to celebrate their uniqueness and for them to feel loved and appreciated and for them to know that they make my day special by just being themselves because, as Mr. Rogers says, love is at the root of everything. All learning, all parenting, all relationships — love, or the lack of it. I want my students to feel loved and appreciated," he said.
Storyful contributed to this report.