Astros trade Aoki, Hernandez to Blue Jays for picther Liriano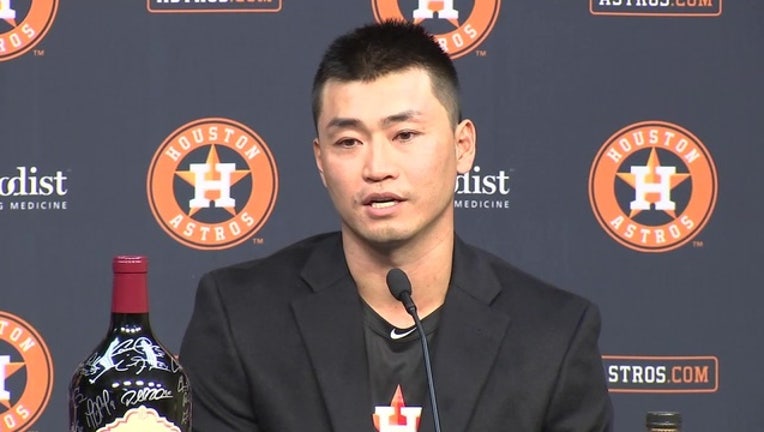 article
HOUSTON (FOX 26) - The Houston Astros have acquired left-handed pitcher Francisco Liriano from the Toronto Blue Jays in exchange for outfielders Norichika Aoki and Teoscar Hernandez, team general manager Jeff Luhnow announced on Monday. Liriano is scheduled to join the Astros at Minute Maid Park on Tuesday.
Liriano, 33, was 6-5 in 18 starts for the Blue Jays in 2017 with a 5.88 ERA with 74 strikeouts in 82.2 innings of work. He has held left-handed hitters to a .226 average this season (14x62), allowing just one HR. In 11 Major League seasons, Liriano has posted a 102-97 record in 303 appearances (274 starts) with a 4.15 ERA while holding left-handed hitters to a .220 batting average (.599 OPS). He has also tallied more than a strikeout per inning in his career with 1,631 K's in 1,595.2 innings pitched.  Among active pitchers since 2006, Liriano's 9.15 strikeouts per 9.0 innings pitched ratio ranks third in the Majors in that span behind RHP Max Scherzer (10.17) and LHP Clayton Kershaw (9.87).
"Francisco is a versatile, left-handed pitcher that has had a great deal of success throughout his career," Luhnow said. "He is a veteran with postseason experience that will help us down the stretch."

Liriano also has postseason experience, posting a 2-0 mark in six appearances (three starts) with a 3.97 ERA (10ER/22.2IP). He was the starter an winner in Pirates 2013 NL Wild Card Game victory over the Reds, allowing one run over 7.0 innings in the 6-2 win.  Other highlights in Liriano's career include two Pitcher of the Month Awards and a no-hitter on May 3, 2011.

In his career, Liriano has pitched for the Twins (2005-12), White Sox (2012), Pirates (2013-16) and Blue Jays (2016-17). After being acquired by the Blue Jays in a midseason trade last year, Liriano was 2-2 in 10 appearances (eight starts) for the Jays down the stretch with a 2.92 ERA with 52 K's in 49.1 innings pitched.

Aoki, 34, hit .272 in 71 games for the Astros this season with 12 doubles, two home runs and 19 RBI in what was his first season in Houston. He is a career .285 hitter in 720 Major League games (736x2582), playing for Milwaukee (2012-13), Kansas City (2014), San Francisco (2015), Seattle (2016) and Houston (2017).

Hernandez, 24, spent the majority of this season at Triple A Fresno where he hit .279 in 79 games with 20 doubles, 12 home runs and 44 RBI with an .854 OPS. He has a .230 batting average (23x100) in 42 career Major League games with four home runs and 11 RBI.
AJ Reed has been recalled from the Triple A Fresno Grizzlies and will replace Nori Aoki on the Astros roster. Pitcher Lance McCullers has been placed on the 10-day disabled list due to back discomfort and pitcher Michael Feliz has been recalled.