Austin FC falls 3-2 to St. Louis City SC in MLS season opener
AUSTIN, Texas - Austin FC fell 3-2 to St. Louis City SC in the opening match of its 2023 Major League Soccer season.
Sebastián Driussi scored for the fifth-consecutive home match, and Jon Gallagher recorded Austin's second in front of a crowd of 20,738 at Q2 Stadium in North Austin.
St. Louis took the lead in the 24th minute through Tim Parker, who bundled in a corner kick from Eduard Löwen. 
The Verde & Black battled back at the very end of the first half. Leo Väisänen played a long ball over the top, and Driussi brought it down to level the score against St. Louis goalkeeper Roman Bürki.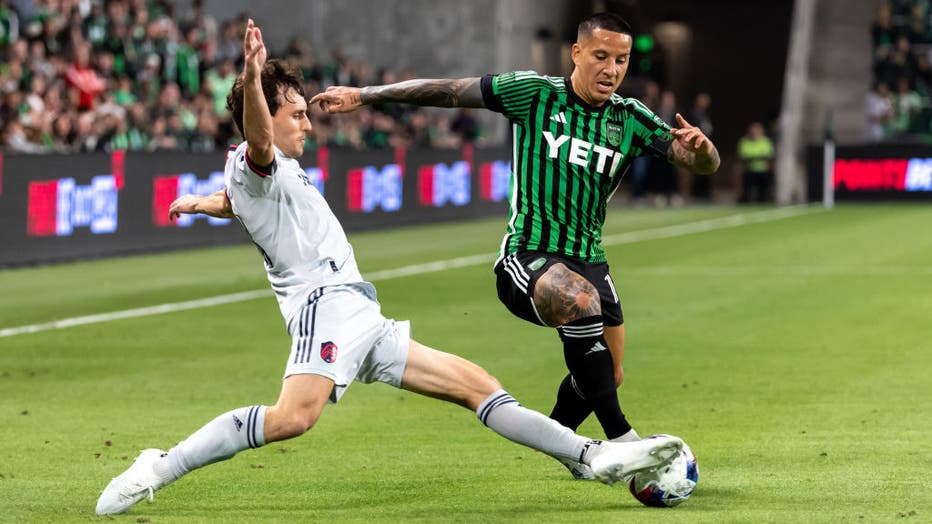 AUSTIN, TX - FEBRUARY 25: St. Louis City SC midfielder Jack Stroud (8) stretches out to kick the ball away from Austin FC midfielder Sebastián Driussi (10) during the MLS match between Austin FC and St. Louis City SC on February 25, 2023 at Q2 Stadiu
READ MORE
Austin continued to show attacking intent early in the second half, and Gallagher popped up in the 72nd minute to put the hosts in front. Taking a pass from Diego Fagundez, Gallagher – who had just come onto the field moments before – fired an accurate low strike in off the far post. 
The scoreline would flip again though, with Jared Stroud scoring a second goal for St. Louis six minutes later. João Klauss then scored the game-winner for St. Louis in the 86th minute. 
Austin hit the crossbar in stoppage time, but ultimately fell to a defeat.
NEXT MATCH
Austin FC will play its second home match and second match overall of the regular season against CF Montréal on Saturday, March 4 at 7:30 p.m.