Major Baylor donor McLane wants Briles' 'honor restored'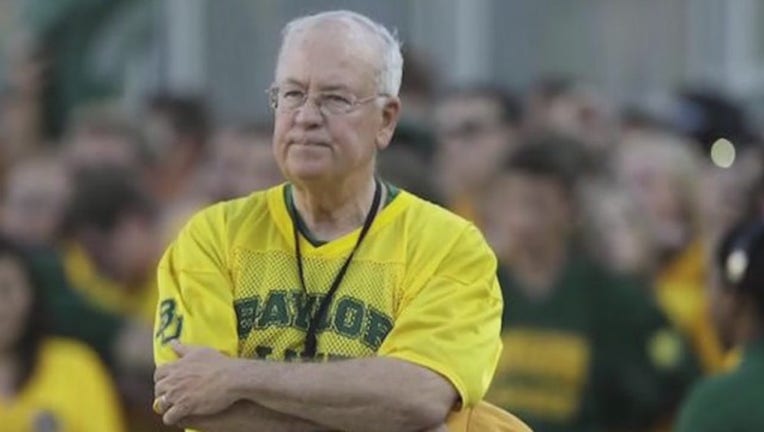 article
WACO, Texas (AP) — Billionaire businessman Drayton McLane, whose name adorns the Baylor University football stadium, said Thursday he wants to see fired football coach Art Briles' honor "restored" and any evidence that led to his dismissal publicly released by the school's board of regents.
McLane and a group of influential alumni and donors called "Bears for Leadership Reform" met across the Brazos River from McLane Stadium in Waco to demand more transparency from school regents, including the release of what was uncovered by an investigation into how the school handled sexual assaults.
The group insisted its goal isn't to bring back Briles or focus on the football program, but to remove a cloak of secrecy surrounding board meetings, the investigation and its findings.
Speaking on his own, McLane stopped short of calling for Briles' return, but defended his integrity.
"I just want to see his honor restored," McLane said. "The Baylor family and the public needs to know the truth. Art and the other people involved in this need for the facts to come out." McLane also insisted he's been told nothing and been shown none of the evidence despite his position as a non-voting regent emeritus.
Regents released some results from the investigation by the law firm Pepper Hamilton earlier this year that found the school for years mishandled reports of sexual assault, and that Briles' football program acted as if it was "above the rules."
The probe led to Briles' dismissal, the resignation of former athletic director Ian McCaw and the demotion of school president Ken Starr, who later resigned.
Baylor is facing federal lawsuits from more than a dozen women, and a federal investigation by the Office of Civil Rights at the Department of Education. The demands and sharp criticism of school leadership from influential donors and alumni is the strongest sign yet of the behind-the-scenes battles at Baylor.
Briles remains an explosive figure in it all.
His assistant coaches, all of whom remain on staff, including son Kendal Briles, released a statement last week defending Briles. Fans lined up to buy black T-shirts with his initials before Baylor's home game against TCU last week, and a similar banner also flew from one of stadium's luxury suites.
The group on Thursday demanded Baylor regents hold open meetings, publish agendas and minutes, and discuss decisions publicly. And it wants Baylor to disclose what the university has spent on settlements and the pending lawsuits. It also wants a voice in selecting a new president.
"Baylor University has no place in scandalous, tabloid news," former regent Emily Tinsley said. "Power struggles and secrecy can destroy any family."
Houston attorney John Eddie Williams, who name is on the McLane Stadium football field, suggested some regents should be forced out, but did not name which ones. The board, however, is appointed by its own members.
"There's some good people on that board, but there has been some bad decisions," Williams said. "I cannot support this board ... At some point, you've got to clean house."
The group noted that Pepper Hamilton recommended reforms at the board level, including training on conflicts of interest and protocols for interaction with administrators and athletics. The group said it wants to know what the investigation found to prompt those recommendations.
Baylor officials did not attend Thursday's meeting but regents Chairman Ron Murff released a lengthy statement in which he noted that "emotions are running high."
"As we make the changes and reforms necessary at Baylor, we are determined to emerge from this experience stronger as a Christian institution, closer as a Baylor Family and united in our determination to always strive to do what is right," Murff said.
Whether the group will try to force its influence for changes on the board by withholding money, Williams said that will be up to individual members to determine.
McLane noted he recently gave school a donation of several million dollars.
"You give because you love Baylor University," McLane said.