Marquee games offer SEC East teams to flex muscles vs. West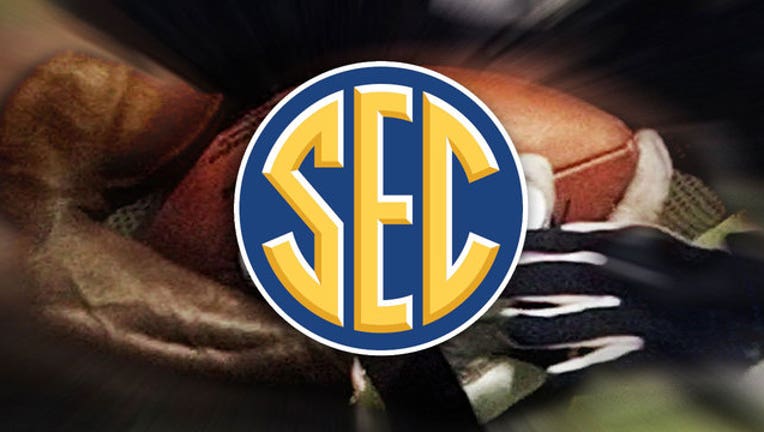 article
Teams in the SEC's East Division have a large chip on their shoulders.
It's understandable. They've come up short against the West in six straight Southeastern Conference championship games.
This weekend, they've got a chance to make a statement: Enough is enough.
Unbeaten Georgia and Florida take on West powerhouses Alabama and Mississippi in Top 25 showdowns.
Rejuvenated Florida (4-0, 2-0) slipped back into the rankings this week at No. 25 and welcomes third-ranked Ole Miss (4-0, 2-0) to the Swamp in Gainesville. The Rebels seek to break a first-place tie with No. 9 LSU in the West; the Gators will chase a third straight SEC win to keep pace in the East with No. 8 Georgia.
Florida coach Jim McElwain, a former Alabama assistant, wasted no time trying to inspire the Gators on Monday, saying that Ole Miss figures to come in and "beat the heck out of us."
The first-year Gators coach later added, "but you know what? All of that being said, there's a pretty good chance we'll show up and be there. ... It should be another fun environment."
In Athens, Georgia, the Bulldogs (4-0, 2-0) host No. 13 Alabama (3-1, 0-1), which looks to bounce back from a 43-37 home loss to Ole Miss nearly two weeks ago. It's the first meeting between the schools since the 2012 SEC title game won 32-28 by the Crimson Tide.
Alabama center Ryan Kelly was a redshirt freshman then and expects the Bulldogs to try and prove something before a national television audience.
"They're going to be just as excited to play us as we are them," said Kelly, a senior. "Anytime you play an SEC team — and we don't get to play a lot of teams from the East every year — there's a good amount of guys who were here in 2012 that remember that game, that remember how physical they played. We're going to have to be at our best this week."
Tennessee hosts Arkansas in another interdivisional matchup, with both schools coming off close defeats. After his Razorbacks fell 28-21 in overtime at Texas A&M last weekend, coach Bret Bielema isn't thinking about divisional supremacy.
"We both need a win; that's what it is. It's all that matters," Bielema said.
Maybe to the Razorbacks that's all that matters, but there's much more at stake.
Upsets will put the race for the conference title even further up for grabs, and could impact whether the SEC gets one of the four seats at the college playoff table.
The Rebels currently are the only SEC school tanked in the top five, with Georgia and LSU knocking on the door. The first College Football Playoff rankings won't be released until early November, but an Ole Miss loss to Florida, and a Georgia loss to Alabama would leave the SEC on the outside looking in — for now.
"There are much more bigger games down the road, so this is a critical game for them to get," SEC Network analyst and former LSU All-America nose guard Anthony "Booger" McFarland said in a phone interview.
"If you looked at their schedule before the season, you didn't circle Florida as one of their big games, which is why this is a key game they can't lose."
While there's still a lot of football to be played ahead before thinking about a December trip to Atlanta for the SEC title game, signature victories this weekend could help show that the East's days of playing second fiddle to the big, bad West might be numbered.
The Gators were the last East team to win the championship in 2008 behind Heisman Trophy winner Tim Tebow.
McFarland believes changing public perception that it's the West and everybody else in the SEC starts with the East winning the title.
"Once the East gets to that point, they'll be looked at as a more balanced part of this league," McFarland added.
No matter what happens, a one-loss SEC team could still be a title contender.
But Ole Miss coach Hugh Freeze doesn't want to take that chance against a Florida team that was expected to be transitioning under McElwain. He certainly doesn't buy into his counterpart's attempt to paint the Gators as heavy underdogs.
"I'm not sure why coach McElwain said that our team has no regard for their team," he said. "I'm sure he has a reason. But we have a lot of regard and respect for those guys."
___
AP Sports Writers Steve Megargee in Tennessee, John Zenor in Alabama and Kurt Voigt in Arkansas contributed to this report.
___
AP College Football: www.collegefootball.ap.org