NASCAR broadcaster's insight on FOX Bet Super 6 Stage 2 Contest at Bristol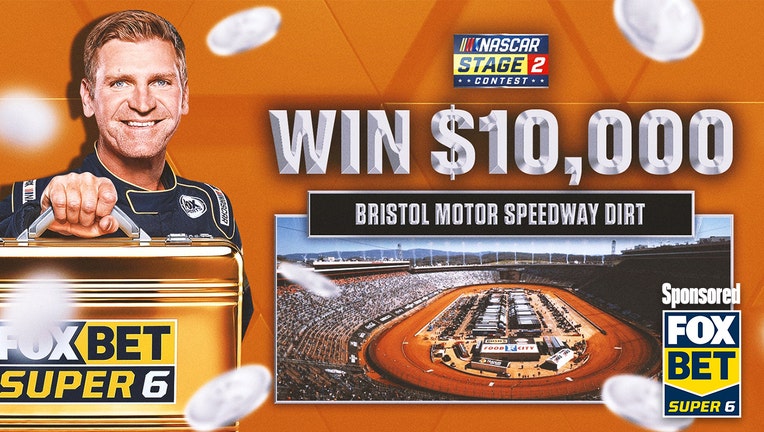 article
It's not every day that a three-sport savant lends his expert analysis to one of NASCAR's most exciting events. But FOX Sports play-by-play announcer, reporter and studio host Chris Myers did just that when he chatted with us ahead of race weekend at Bristol Motor Speedway Dirt.
"The surprise of this NASCAR season so far is the continuing rise of Tyler Reddick and how well he's run and how successful he's been," Myers noted. "It's been fun to watch.
"But the disappointing part of the season — granted, it's early — is that we haven't seen wins by Brad Keselowski, Denny Hamlin and Kevin Harvick. I would've thought that their experience would favor them and that they would've been to victory lane by now."
Myers, an Emmy-award-winning broadcaster, is widely recognized for his brilliance in reporting on NASCAR, NFL and MLB. So naturally, Chris's multifaceted experiences covering different sports equip him with a unique perspective. He can easily identify which drivers should be winning now and which will likely win in the future.
"One thing you see in NASCAR right away and in other sports, too, is when an athlete has a lot of talent," Myers explained. "For NASCAR athletes, it's having great driving skill, but the next thing that determines how successful you are is how athletes respond to having that talent.
"I knew Joey Logano, with his million-dollar smile, would be successful. But as they say, he's two-faced. He's a nice, friendly, smiling guy in person, but he's vicious behind the wheel and will do whatever it takes to win."
However, according to Chris, drivers who come across as "difficult" also have successful track records.
"A guy like Kyle Busch is very polarizing. Fans know that he can race with anybody. But what I like about him is that he's one of the most honest, straightforward, candid drivers — and at times, to a fault. Sometimes, broadcasters or NASCAR owners or even sponsors will say, 'Whoa, I can't believe he said that!' 
"As far as up-and-coming talent, Daniel Suarez is someone rising in the ranks whose big personality is one that we, as broadcasters, want to magnify."
When it comes to the huge race weekend at Bristol Motor Speedway on FOX, Myers explains that this race will not only be different from those we've seen earlier this season, but it will also be different from Bristol of yesteryear.
"Although it's the same coliseum, and it's a great scene, it's a dirt track. We've only had two races on the dirt at Bristol. So all the other stats from short-track racing and the history here will be out the window.
"Throw in the fact that they raced on dirt the last couple years as well as this year, and you have an additional element of unpredictability. Last year, we had a number of cautions and cars spinning, but this year, I think the drivers will have a better handle on the newer cars and on dirt. They'll take more chances and will be more aggressive, which will make for a more exciting race."
And speaking of taking chances, we at FOX Bet Super 6 are giving you an opportunity to take a chance on winning some big cash playing the NASCAR Stage 2 Contest.
FOX Bet Super 6 is a free-to-play contest where you can pick six different outcomes in the NASCAR Stage 2 Contest featuring Bristol Motor Speedway Dirt to win Clint Bowyer's $10,000. Just download the FOX Bet Super 6 app on your phone or mobile device, make your picks and submit your selections before the race gets underway this Sunday.
Playing FOX Bet Super 6 is always free, easy and it's fun. And people really do win!
Before you speed off to make your FOX Bet Super 6 picks featuring this week's NASCAR race on FOX, check out the expert insight from Chris Myers!
Expert picks from Chris Myers
Which of these drivers will have the best finish at the end of the race?
Tyler Reddick, William Byron, Alex Bowman, Joey Logano, Kyle Larson, Ryan Blaney
"It's going to be between Kyle Larson and Joey Logano. Logano has had success at Bristol before, and he's shown how adaptable he can be. I know it's rare to win back-to-back, but Larson is capable. Kyle is capable because he's one of those dirt-track drivers who will be comfortable there.
"And now that Kyle has had a couple runs at Bristol dirt, I'd put him at the top of the list as one of the drivers who could win this race."
Prediction: Kyle Larson
Which manufacturer — Chevrolet or Ford — will have the most cars in the top 20 at the end of Stage 2 and how many will they have?
1-6, 7, 8, 9, 10, 11, 12, 13, 14, 15+
"Because the Hendrick team has been so successful this year, I'm going with them."
Prediction: Chevrolet, 12
Which of these drivers — Tyler Reddick or Kyle Larson — will have the fastest lap by the end of Stage 2 and how many yellow laps will there be?
0-13, 14-16, 17-18, 19-21, 22-25, 26-29, 30-34, 35-38, 39-43, 44+
"This is a tough one. But I'm going Kyle here."
Prediction: Kyle Larson, 44+
Which team — Hendrick Motorsports or Stewart-Haas Racing — will have the most laps led by the end of Stage 2 and how many laps will they lead?
1-13, 14-16, 17-19, 20-22, 23-25, 26-29, 30-33, 34-38, 39-42, 43+
"Hendrick will lead here."
Prediction: Hendrick Motorsports, 43+
Which driver — Christopher Bell or Chase Briscoe — will have the better finish at the end of Stage 2 and by how many positions?
1, 2, 3, 4, 5, 6, 7, 8-10, 11-14, 15+
"Bell will be better here. Like Kyle Larson, Bell's another one of those guys who's a dirt-track specialist. He grew up racing dirt tracks a lot earlier than most of the other drivers. And he's someone who has a good chance to win this race. 
"Briscoe is more the sleeper here, and Bell is more the favorite between these two."
Prediction: Christopher Bell, 3 
Which driver — Austin Dillon or Ross Chastain — will have the better finish at the end of Stage 2 and by how many positions?
1, 2, 3, 4, 5, 6, 7, 8-10, 11-14, 15+
"This is a good one. They're both very aggressive drivers, but I'm giving Dillon the edge here because of his experience."
Prediction: Austin Dillon, 2
How to play
In addition to his FOX Bet Super 6 picks, Myers wants fans to know that Bristol — and the rest of the NASCAR race slate on FOX — has something for everyone.
"As someone who has covered all the other major sports, I want people to know that you don't have to be a gearhead to really love NASCAR. And there is so much strategy involved and intrigue surrounding every race.
"Yes, the car as a machine is a major part of it. But the drivers' personalities and how they handle pressure moments is an even bigger part of this sport. With in-car radio and the kind of audio that we provide, you're in there as close as you can get. You really come along for a wild ride."
So are you ready to ride with us and make your winning FOX Bet Super 6 picks for Bristol?
Download the FOX Bet Super 6 app and submit your selections for the NASCAR Stage 2 Contest now. Then be sure to share your picks with us by tagging @FOXSuper6 and @EricaReneeD and using the #EricaSuper6 hashtag across all social media platforms.
Fire up those engines and get in on the action now!
Download the FOX Bet Super 6 app for your chance to win thousands of dollars on the biggest sporting events each and every week! Just make your picks and you could win the grand prize. Download and play today!
No purchase necessary. Open to legal residents of the US, excluding WA. 18 and older. See terms and conditions at foxsuper6.com. Sponsored by TSG Interactive US Services Limited.