Robbie Ray needs surgery, will miss rest of season for Mariners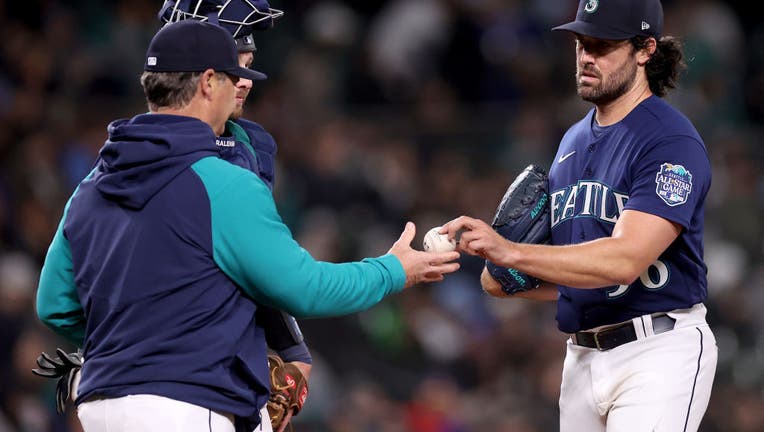 article
Left-handed pitcher Robbie Ray will miss the rest of the season for the Seattle Mariners as he needs surgery to address a flexor tendon injury.
"I do not have good news there," Servais told reporters in Philadelphia on Wednesday. "He will not pitch for us in 2023. That is tough news. It's really hard for Robbie. He is a really good competitor. We miss not only what he does every fifth day when he takes the ball, but certainly being a good teammate and having a guy around we can really lean on."
Ray, 31, didn't make it out of the fourth inning in his only start of the year for the Mariners. Ray allowed five runs (three earned) on four hits with five walks and three strikeouts.
Ray's velocity dipped noticeably as his outing went along. After opening with fastballs that hit 95.6 miles per hour twice in the first inning, Ray managed to reach 93 miles per hour with just one of his final 17 fastballs thrown before exiting the contest. His velocity was sitting at 91-92 mph by the end of his outing.
Ray was initially diagnosed with a Grade 1 flexor tendon strain. After experiencing ongoing discomfort, further scans showed more damage to the tendon and the decision was made to shut him down with surgery necessary.
"I heard about it last night and talked to Robbie a little bit today," Servais said. "He's down. He loves being a part of what we're doing here and he's a big part of what we're doing, but you won't see him again for 2023. That's a downer."
The Mariners didn't miss a single start from their starting rotation last year due to injury. Ray, Logan Gilbert, George Kirby, Marco Gonzales, Chris Flexen and Luis Castillo combined to make 154 of 162 starts for the team with spot starts for double headers taking up some of the remaining starts. Additionally, Matt Brash began the year in the starting rotation before being moved to the bullpen.
Ray has been quite durable through his 10-year MLB career. He's made at least 23 starts every full season since becoming a full-time starter in the majors in 2015 with the Arizona Diamondbacks.
Chris Flexen has taken Ray's spot in the rotation ever since Ray's injury. Flexen has gone 0-4 with a 10.38 ERA in his four starts in the rotation. Flexen has allowed 20 runs on 27 hits with eight walks and 13 strikeouts in 17 ⅓ innings pitched. Opposing batters are hitting .355 with a .893 OBP against Flexen in those four starts.
Knowing Ray will now miss the rest of the year, the Mariners may have to make a move to find a different starting option moving forward. Flexen's form since rejoining the rotation isn't something the team can continue to run out every five days. Outside of hoping Flexen recaptures his peak form from the last two years when he was a regular starter for Seattle, Ray's absence  creates a rather large hole in the team's starting rotation.