No. 12 Iowa State pulls away from No. 7 Texas, wins 78-67
AMES, Iowa - Jaren Holmes scored 21 points and No. 12 Iowa State defeated No. 7 Texas 78-67 on Tuesday night.
Holmes hit seven of 13 shots, including two 3-pointers, and Gabe Kalscheur added 16 points.
"We earned this," Holmes said. "We deserve this, because of our daily habits."
Caleb Grill contributed 17 and Osun Osunniyi finished with 11 points and seven rebounds for the Cyclones (14-3, 5-1 Big 12).
"There is a rugged toughness to how we do it," Iowa State coach T.J. Otzelberger said. "But there is a togetherness and a unity that are at a really, really special level with this group."
Texas (15-3, 4-2) was undone by a second-half scoring drought that lasted nearly 4 1/2 minutes. Iowa State responded with an 8-0 run to seize control.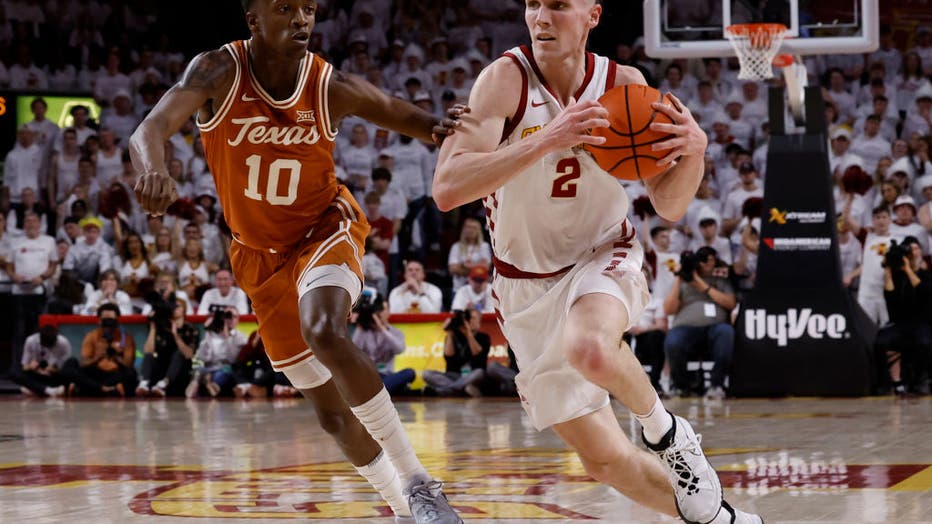 AMES, IA - JANUARY 17: Caleb Grill #2 of the Iowa State Cyclones drives the ball as SirJabari Rice #10 of the Texas Longhorns defends in the first half of play at Hilton Coliseum on January 17, 2023 in Ames, Iowa. The Iowa State Cyclones won 78-67 ov
READ MORE
The Longhorns went 9 1/2 without making a shot from the floor.
"They made plays down the stretch," Texas interim coach Rodney Terry said. "T.J. had his team ready to play today. Just a highly competitive game in the Big 12."
A 3-pointer from Grill gave the Cyclones a 64-55 lead with 6:01 to play.
Christian Bishop led Texas with 12 points.
The Longhorns' Tyrese Hunter scored 10 points - all in the first half - in his return to Ames, after transferring from Iowa State. Hunter was greeted with boos and an occasional obscene chant from the student section.
He responded with six quick points, matching his scoring mark from his previous three games.
"We're Texas. We get everybody's big game," Terry said. "We looked at it like 'you know what, it's another opportunity to compete at the highest level.' (Hunter) attacked it the same way."
The Longhorns went on to build a 29-18 lead, before Iowa State answered with a 10-0 run, sparked by 3-pointers from Kalscheur and Grill.
Texas went the final 7:28 of the first half without a field goal, but only trailed 36-35.
"The first 10 minutes, they were the aggressor," Otzelberger said. "That last 30 minutes, how we competed defensively, is the club we are and who we need to be for 40 minutes."
BIG PICTURE
Iowa State moved into a three-way tie atop the Big 12 standings with Tuesday's win. The finish came about 30 minutes after Kansas' 83-82 overtime loss at Kansas State, handing the Jayhawks their first conference loss.
UP NEXT
Texas plays at West Virginia on Saturday night.
Iowa State visits Oklahoma State on Saturday.