Max Scherzer on potential return for ALCS: 'My arm feels fresh'
ARLINGTON, Texas - There is no official word from the team yet, but Texas Rangers ace Max Scherzer is talking like someone who plans to pitch in the American League Championship Series.
Scherzer took fielding practice and threw a bullpen session on Friday.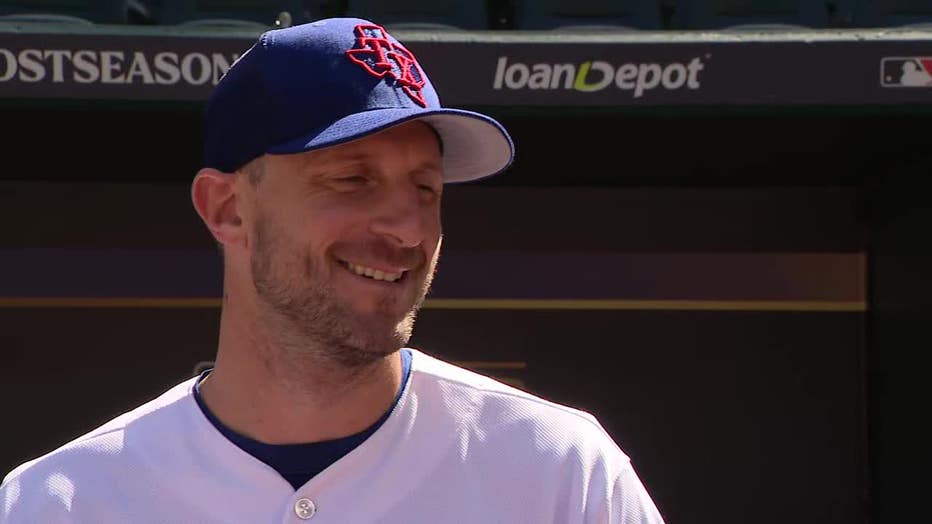 "My arm feels fresh right now, feels brand new," Scherzer told reporters after the session.
On Wednesday, the Rangers pitcher threw 68 pitchers against hitters and pitching coach Mike Maddux said Scherzer was solid throughout that session.
Maddux also noted he wanted to see Scherzer sharpen some things up.
Scherzer has not pitched in a game since Sept. 12 due to a muscle strain in his shoulder.
He has been hoping to pitch for Texas in the playoffs, and it now sounds like he's about to get his chance.
"I'm not stupid here, this is a postseason start, this is going to be amped up even more.  So that's where you know what you can do and be in communication with the coaches," the pitcher said.
Scherzer says that the final call lays with the higher ups, but that he has been communicating about how he feels with doctors, coaches and management.
The Rangers have until 10 a.m. on Sunday to announce if Scherzer will appear on the team's ALCS roster.
The Astros are sending future Hall of Famer Justin Verlander to the mound for Game 1.
The Rangers announced lefty Jordan Montgomery would get the start on Sunday.