Win $10K in the FOX Bet Super 6 NASCAR Contest featuring Phoenix Raceway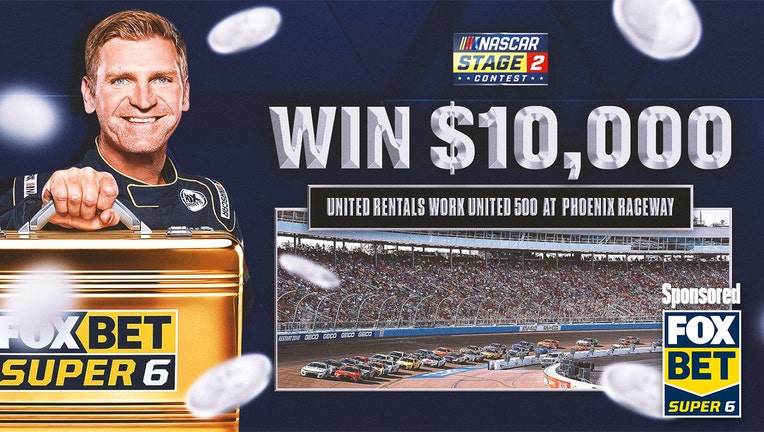 article
The first NASCAR race of the month is here! And there's no better way to roar into March — Women's History Month — than by celebrating one of our very own women in racing.
We chatted with Shannon Spake, NASCAR studio host and FOX NFL reporter, to get her FOX Bet Super 6 predictions (more on that later) and to find out what it's really like being such a pivotal part of this fast world.
"I always tell young women that hard work is gender-less," Spake affirmed. "I really put in the time. I spent a lot of extra time in the garage with crew chiefs, with drivers or team members asking questions and learning as much as I could."
But it wasn't always fire-retardant suits and checkered flags for Shannon. The mother of two grew up in South Florida, where college football — not racing — dominates the culture of sports. So she admitted that her early days as a NASCAR reporter came with challenges.
"I was a super green reporter working for the Speed Channel in Charlotte, and ESPN was building a team getting back into NASCAR," she recalled. "And I was very, very fortunate that they called me. 
"I ended up doing the Xfinity Series, I did pit reporting, I hosted NASCAR Now. Anything and everything. I did it."
As a woman in the racing industry, one value that has continually propelled Shannon's career forward is her grounding motto: If you're a hard worker, people are going to recognize and respect you. 
Speaking of respect — she credits the professional relationships she has formed as being integral to helping her navigate both NASCAR and the NFL as a woman.
"I certainly think that in any sport, men are going to have different conversations with other men than they have with women," Spake contended. "In life, in general, that's gonna happen.
"But I've never felt like I haven't gotten a story or that I haven't been able to follow up on something or get information because I'm not a part of certain conversations. And that's because it's about relationships. Relationships form when people trust you, and then you get more access when people trust that you're truly in it because you care about them as individuals and not just as athletes or drivers.
One misconception the multifaceted host wants to dispel about NASCAR? The narrative that women are not involved.
"Every weekend when I cover the NFL, I'm the only woman sitting at the production table. In NASCAR, I've had women like Jamie Little or Kaitlyn Vincie with me my entire career.
"There were times when I was pregnant, running up and down pit row, and it was Jamie who drove me to the hotel while I was lying down crying in the backseat because it was time for me to go home to nest. I don't have that female counterpart in a lot of other sports."
And because Shannon has cemented herself as one of NASCAR's most-trusted voices, we were thrilled to get her insight on this weekend's FOX Bet Super 6 NASCAR Stage 2 challenge featuring the United Rentals Work United 500.
FOX Bet Super 6 is a free-to-play contest where you can pick six different outcomes in the NASCAR Stage 2 Contest to win Clint Bowyer's $10,000. Just download the FOX Bet Super 6 app on your phone or mobile device, make your picks and submit your selections before the race gets underway this Sunday.
Not only is playing for the $10,000 grand prize free, but it's also easy and fun. Oh, and people really do win!
Let's dive into Shannon's predictions for Phoenix Raceway below!
Which of these drivers will have the better finish at the end of the race?
Denny Hamlin, Joey Logano, Martin Truex Jr., Kyle Busch, Kyle Larson, Kevin Harvick
"Let me go Kyle Larson just based on how Hendrick Motorsports ran last week."
Prediction: Kyle Larson
Which manufacturer — Chevrolet or Ford — will have the most cars on the lead lap at the end of Stage 2 and how many will they have?
1-3, 4-5, 6, 7, 8, 9, 10, 11, 12, 13+
"Oooooo, Chevy. And I'll say 8."
Prediction: Chevy, 8
Which of these drivers — Kyle Busch or Kevin Harvick — will have the fastest lap by the end of Stage 2 and how many yellow laps will there be?
0-9, 10-11, 12-13, 14-15, 16-17, 18-19, 20-21, 22-23, 24-25, 26+
"Oh my goodness. I think Kevin will have the fastest lap. And on that last part on how many cautions — can I plead the Fifth on that one? That's a hard one!"
Prediction: Kevin Harvick
Which team — Hendrick Motorsports or Joe Gibbs Racing — will have the most laps led by the end of Stage 2 and how many laps will the lead?
1-13, 14-20, 21-26, 27-33, 34-40, 41-47, 48-54, 55-61, 62-66, 67+
"I'm gonna say Hendrick. Definitely Hendrick. And that's because that team ran such a good race last week. William Byron completely dominated. While I think Kevin Harvick has an opportunity to do it just based on his track record, I think that the Hendrick team is super strong right now, and they're showing speed that Stuart Haas isn't really showing at this point."
Prediction: Hendrick Motorsports, 67+
Which manufacturer — Chevrolet or Ford — will have the car that gains the most positions by the end of Stage 2 and how many will they gain?
1-4, 5-8, 9-10, 11-12, 13-14, 15-16, 17-18, 19-20, 21-22, 23+
"I'll say Ford. I think maybe someone will have to go to the back of the field."
Prediction: Ford, 19-20
Which driver — Kyle Larson or Martin Truex Jr. — will have the better finish at the end of Stage 2 and by how many positions?
1, 2, 3, 4, 5, 6, 7, 8-10, 11-14, 15+
"Kyle Larson and I'll go six. And again, that's just because he's just so good at Phoenix."
Prediction: Kyle Larson, 6
When it comes to race weekend at Phoenix Raceway, Shannon gave us her thoughts on how she hopes it all unfolds.
"I'm looking forward to seeing if Trackhouse Racing continues to do what they've done. One of their drivers, Daniel Suarez, has finished top 10 in all three of the races. 
"We've covered Suarez his entire career, and he's had so many heartbreaks — going from one team to the next to the next. And now that it looks like he's found a home at Trackhouse, I'm really excited to see what he's doing."
With all of Shannon's extraordinary insight, your engines should be ready to go the distance in this weekend's FOX Bet Super 6 NASCAR Stage 2 Contest.
Download the FOX Bet Super 6 app and submit your selections for the NASCAR Stage 2 Contest now! Then be sure to share your picks with us by tagging @FOXSuper6 and @EricaReneeD and using the #EricaSuper6 hashtag across all social media platforms.
Good luck!
Download the FOX Bet Super 6 app for your chance to win thousands of dollars on the biggest sporting events each and every week! Just make your picks and you could win the grand prize. Download and play today!
No purchase necessary. Open to legal residents of the US, excluding WA. 18 and older. See terms and conditions at foxsuper6.com. Sponsored by TSG Interactive US Services Limited.