Austin weather: Tornado Warnings end; Flash Flood Watch ends
AUSTIN, Texas - The Tornado Warnings in Travis, Bastrop, Hays and Caldwell Counties have ended.
Manor police say a confirmed tornado has touched down south of Manor in Mustang Ridge. 
A Flash Flood Warning is in effect for Travis and Hays Counties until 4 p.m.
A Flash Flood Watch is also in effect for much of Central Texas until 12 a.m. Friday. This includes the following counties: Gillespie, Hays, Blanco, Travis, Llano, Burnet, Caldwell, Bastrop, Lee and Williamson.
Storm damage off Schuelke Rd. and Rolling Ridge between Lockhart and Mendoza in Caldwell County. (Carissa Lehmkuhl)
Heavy rain is likely all the way through early in the afternoon. 
Street and flash flooding are possible with a low risk of river flooding except for the Llano River. 
The Llano River has reached minor flood stage. The water flow rate was 50, and now it's at 30,000.
Some spots west of Austin could get 4 to 6" of rain and 1 to 3" will be common for the rest of the area. 
The threat for large hail and damaging winds is low. Minor street and low water crossing flooding is possible.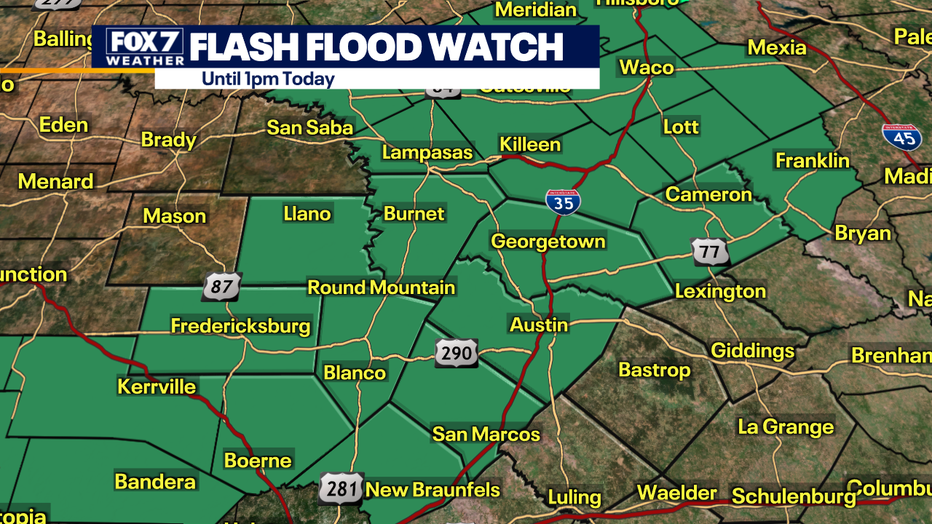 Track your local forecast for the Austin area quickly with the free FOX 7 WAPP. The design gives you radar, hourly, and 7-day weather information just by scrolling. Our weather alerts will warn you early and help you stay safe during storms.