Hurricane Nicholas makes landfall near Sargent in Matagorda County
HOUSTON - Hurricane Nicholas has made landfall as a category 1 hurricane near Sargent in eastern Matagorda County, according to the National Hurricane Center. 
As of 1 a.m. Tuesday, Nicholas had winds of 75 mph. It was centered about 20 miles northeast of Matagorda and was moving north-northeast at 10 mph.
Here's what you need to know about the storm.
CURRENT WEATHER ALERTS
Most of the Texas Gulf Coast is under some type of weather alert because of Nicholas. 
Here is a list of the latest weather alerts:
A Hurricane Warning is in effect from Freeport to San Luis Pass, Texas
A Hurricane Watch is in effect from Freeport to San Luis Pass, Texas.
A Tropical Storm Warning is in effect from north of Port Aransas to Port O'Connor and north of Freeport to Sabine Pass
A Storm Surge Warning is in effect from Port O'Connor, Texas to Sabine Pass and Galveston Bay and Matagorda Bay
A Storm Surge Watch from Sabine Pass to Rutherford Beach, Louisiana.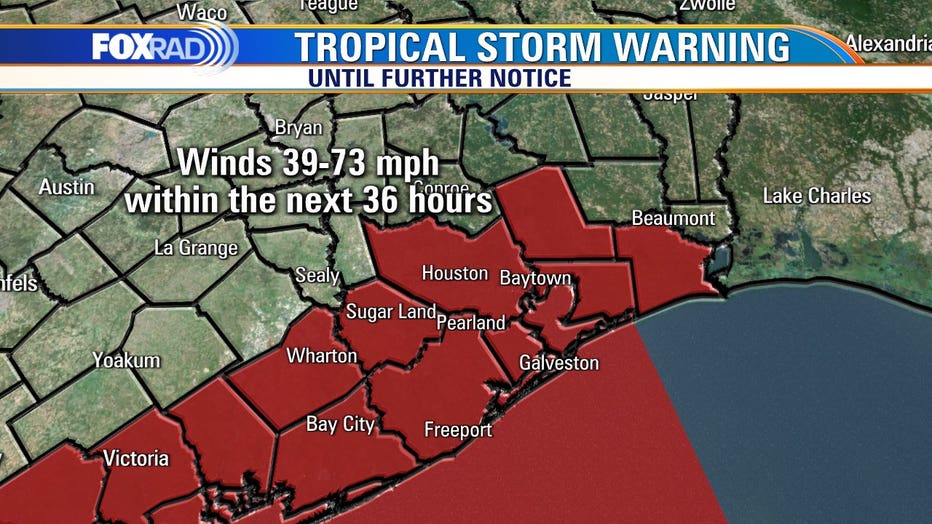 The forecast calls for Nicholas to maintain hurricane strength as it moves inland through Tuesday and weaken to a depression as it moves east of Houston by Wednesday morning.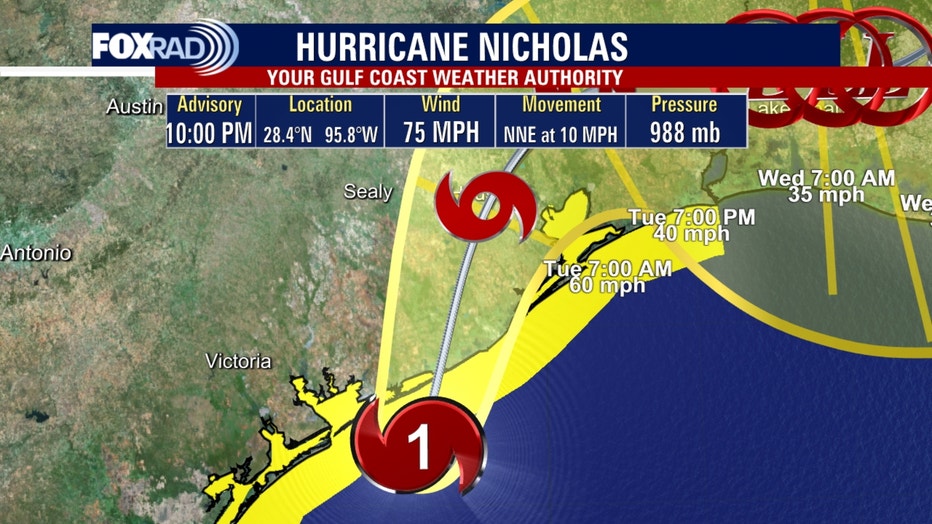 Flash Flooding
While gusty winds will accompany Nicholas, the biggest threat from the storm, by far, is flash flooding.
The Weather Prediction Center has included all of the Southeast Texas coast in a rarely-issued high-risk for excessive rainfall. It includes southeast Harris County.
Forecasters are warning of widespread rainfall totals of up to 10 inches across parts of southeast Texas, especially in the Houston area. Some places could see as much as 15 inches of rain.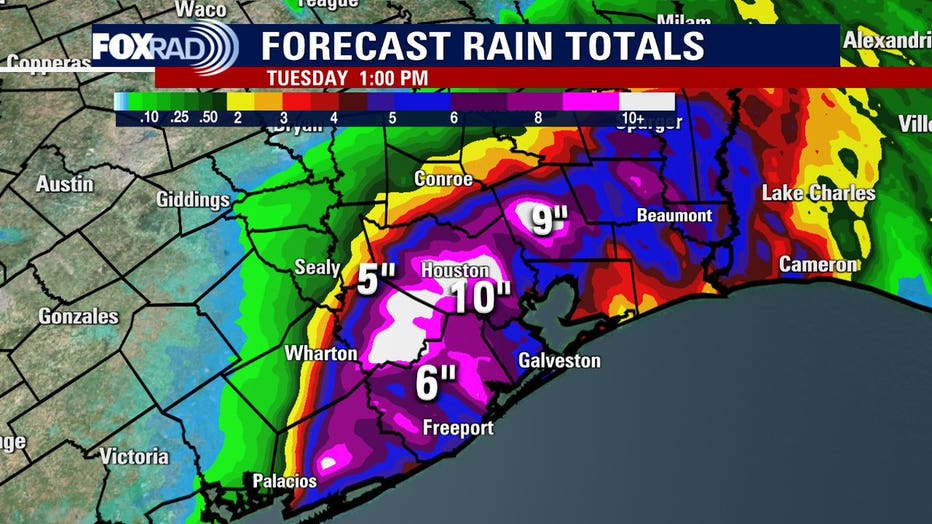 A flash flood watch is in effect for areas along and south of Interstate 10 until Tuesday evening.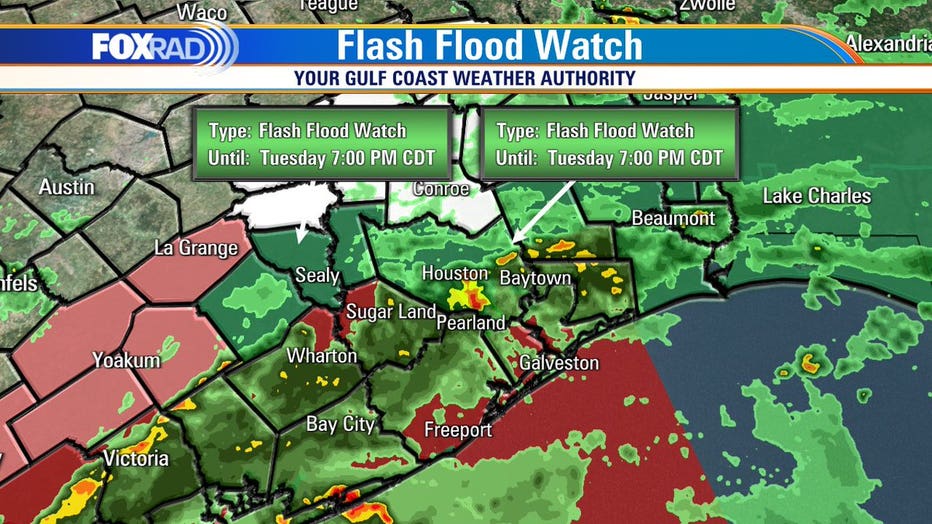 Storm Surge
Another threat with Hurricane Nicholas is storm surge. The angle at which the storm is approaching the coastline creates a large area where water will be pushed ashore by the wind.
The largest storm surge, of 3 to 5 feet, is forecast from Port O'Connor, Texas to San Luis Pass. A surge of 2 to 4 feet is expected the rest of the Texas coastline to Rutherford Beach, Louisiana. This includes Galveston Bay. Up to 3 feet of surge is expected from Rutherford Beach to Intracoastal City in Louisiana.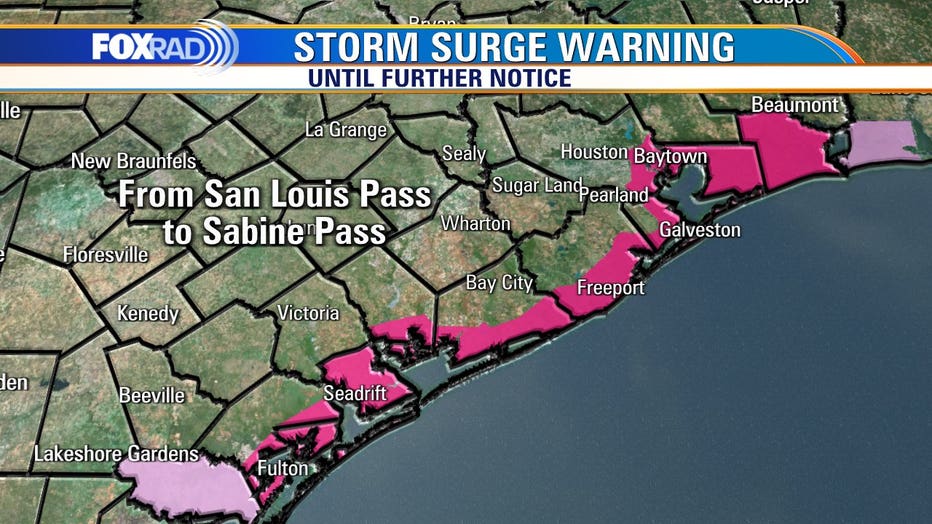 DOWNLOAD THE FOX 26 WEATHER APP
PREPARING FOR THE STORM
In preparation for the heavy rain and potential flash flooding in southeast Texas, schools and local governments are taking precautions.
More than a dozen school districts canceled classes on Monday due to Nicholas, and some districts have already announced closures for Tuesday. Click here for a list.
RELATED: Texans prepare for Tropical Storm Nicholas and several inches of rain
As a precaution, Texas Gov. Greg Abbott ordered state resources to be placed on standby along the length of the Texas Gulf Coast.
"We will continue to closely monitor this storm and take all necessary precautions to keep Texans safe," Abbott said in a statement. "I encourage Texans to follow the guidance and warnings of their local officials and be mindful of potential heavy rain and flooding."
Among the state resources placed on standby were air and boat rescue teams and emergency medical groups.
HOW MUCH RAIN IS EXPECTED IN HOUSTON AREA?
As Hurricane Nicholas moves toward the Houston area, it is expected to be a significant rainmaker for the area.
Some areas could see as much as 15 inches of rain, according to forecasters. We likely won't dry out until Wednesday or Thursday.
With the heavy downpours comes the threat of serious flash flooding. Authorities are asking drivers to use extreme caution on the roadways, especially at night. Remember, turn around, don't drown.
LIST: High water locations on Houston-area roadways
The Houston Fire Department also shared tips for drivers to be prepared in case they encounter high water on road ways. Click here for more.
GOOD INFO: What to do if your car takes in water
LATEST ROAD CONDITIONS
We have the latest on road conditions in the Houston area. You can find that map below or click here.