Williamson County announces winners of 175th Birthday Celebration student art contest
AUSTIN, Texas - Williamson County has announced the winners of its 17th Birthday Celebration student art contest. 
Student artists from 3rd grade to 10th grade were asked to design posters to represent the county as it celebrates its 175th birthday.
The contest was presented by the Greater Round Rock Community Foundation, the Williamson Museum, and the county. 
Winners were selected by precinct and grade level groups, and grand prize winners were then selected in each of the grade level groups. The winners were announced on April 20 at a reception held at the Williamson Museum.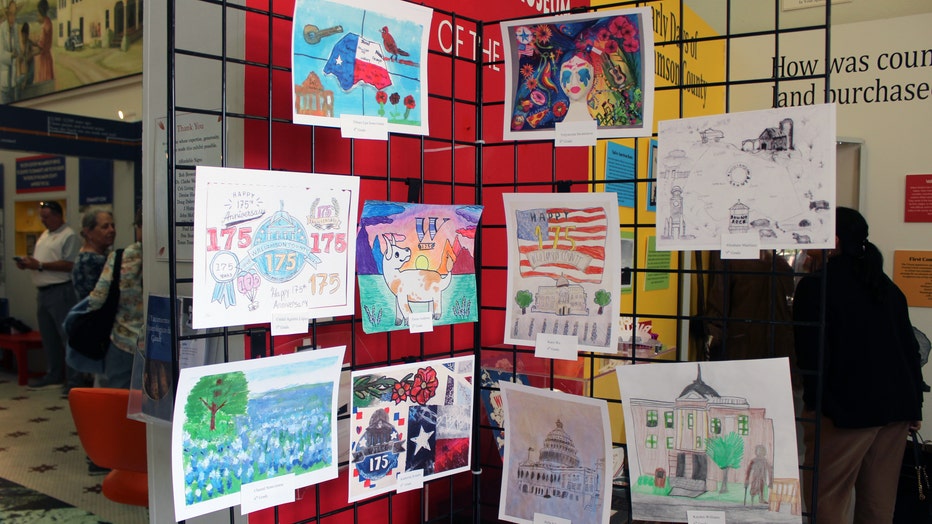 Precinct Winners
Precinct 1
Grades 3-5: Nihara Epa Seneviratne, homeschooled fourth-grader
Grades 6-8: Chantal Seneviratne, homeschooled sixth-grader
Precinct 2
Grades 3-5: Karis Wu, fourth-grader at Cornerstone International Academy Homeschool
Grades 6-8: Yelyzaveta Savatieieva, eighth-grader at Santa Rita Middle School in Liberty Hill
Grades 6-8: Emma Anderton, sixth-grader at Cedar Park Middle School in Cedar Park
Precinct 3 
Grades 3-5: Katherine Rosado, fourth-grader at Carver Elementary in Georgetown
Grades 6-8: Kayden Williams, sixth-grader at Benold Middle School in Georgetown
Grades 9-10: Abraham Martinez, ninth-grader at STEP Campus in Georgetown ISD
Precinct 4 
Grades 3-5: Cristal Aguirre Lopez, fifth-grader at Main Street Intermediate in Taylor
Grades 6-8: Bella Schwarz, sixth-grader at St. Mary's Catholic School in Taylor
Amy Merida, executive director of Central Texas Community Foundation, poses with Nihara Seneviratne, the grand prize winner for Grades 3-5. (Williamson County)
Grand Prize Winners
Grades 3-5: Nihara Epa Seneviratne
Grades 6-8: Yelyzaveta Savatieieva
Grades 9-10: Abraham Martinez