APD: Homeless woman assaulted, tried to bite officer while resisting arrest
AUSTIN, Texas - Austin police say a homeless woman assaulted and tried to bite one of their officers while resisting arrest.
Stephanie Lanette Jury, 29, has been charged with second-degree felony assault on a peace officer and resisting arrest, a Class A misdemeanor.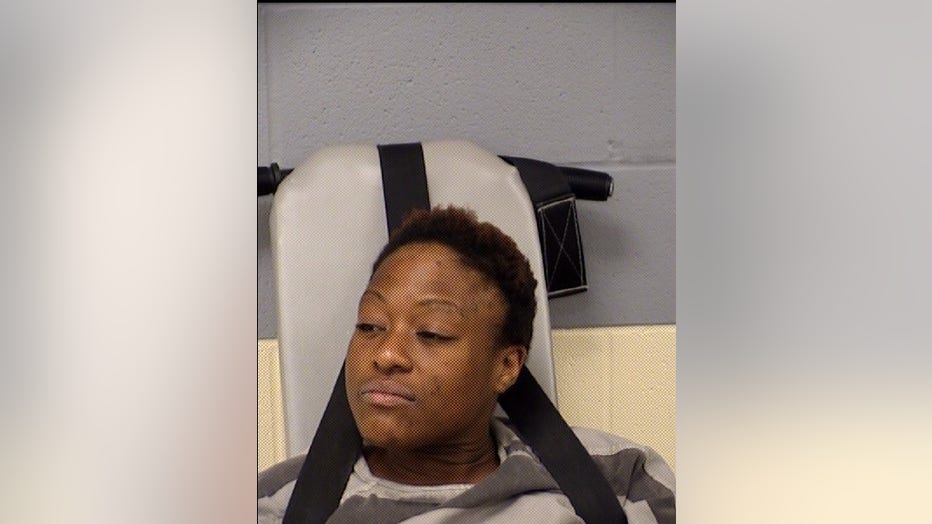 Stephanie Jury (Austin Police Department)
Officers were called to assist with a trespass urgent call at a Super 8 Motel in North Austin on Feb. 6 just after 5 p.m. The caller said a person on the premises was a former guest and they wanted to issue a trespass notice to her, says an arrest affidavit.
The woman was described as a black female wearing a green jacket who moved from the lobby to the pool area. When the officers arrived to assist, they found an APD officer and a suspect in custody, identified as Jury, in the pool area.
The officer said he had made contact with Jury at the pool and saw she matched the caller's description. He checked for warrants and dispatch notified him of a felony warrant for her arrest. He said he told her she was wanted for a warrant, which she acknowledged, says the affidavit.
He moved to detain her, reaching out for her arm and grasping it. She attempted to run from him towards her backpack on a pool chair nearby buy tripped and fell.
The officer followed and as she sat up she grabbed a pool chair and swung it at him. One of the chair legs hit him in the shin. He took the chair away and threw it aside, says the affidavit.
---------
Get breaking news alerts in the FOX 7 Austin News app. It is FREE!
---------
He then knelt down to start to arrest her and she hit him in the face with her hand. Officers in the affidavit noted a mark above the officer's left eye where the skin was broken, red and swollen. The officer said he then reached, grabbed each of her arms and began pulling them behind her back, but she struggled to pull her arms away and under her. 
The officer said as he was kneeling he felt something through his pants above his knee and saw Jury had teeth close to his thigh. He yanked his leg away, telling her "don't bite me!" before she was able to bite him. He then put her in handcuffs, the affidavit saying he had to use significant force to pull her arms behind her back to do so.
The affidavit says Jury said she claimed to know about the warrant, but that it was okay she wasn't in jail because she had been out on a PR bond and her identity had been stolen. 
The warrant on Jury was confirmed as a failure to appear in Harris County for assault, continuous violence against family.
Bond was set at $20,000.