APD searching for suspect who threw scooter at car
AUSTIN, Texas -  The Austin Police Department is asking for the public's assistance in gathering video of or information about a suspect involved in the rush hour fight in downtown Austin that ended with an electric scooter being thrown in a car.
Video shows the sudden and shocking end to a confrontation at the corner of 7th and Brazos.
The victim was driving his vehicle north in the 600 block of Brazos St.reet around 9 a.m. on Wednesday, October 9, according to police. As he approached East 7th Street, the suspect crossed in front of his vehicle against the light so the victim was forced to stop.
The victim honked his horn at which time the suspect approached his vehicle and began punching the hood and yelling obscenities.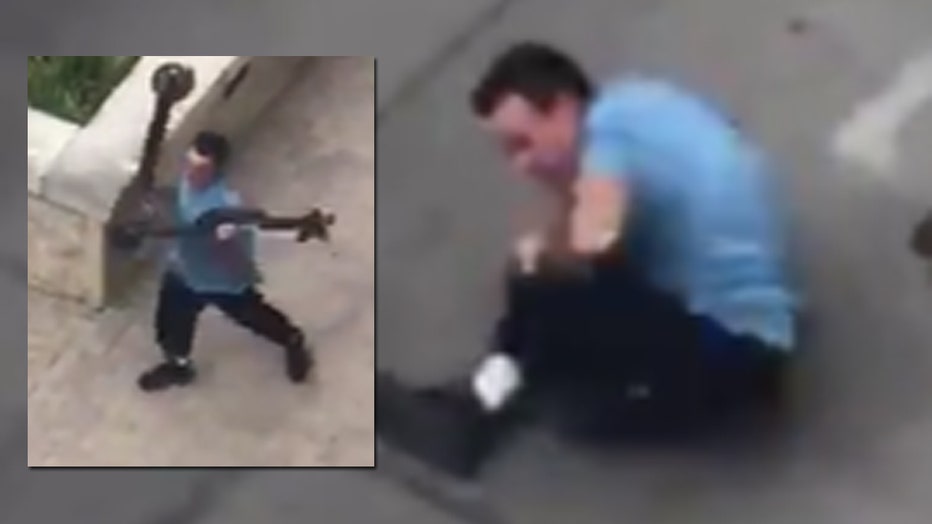 Anyone with a video of this incident or information about the suspect is asked to call 512-974-5320. (Austin Police Department / FOX 7 Austin)
The victim reversed the vehicle to move out of the flow of traffic and got out of his car, according to APD.
At that point, the suspect began to fight with the victim. The victim pinned down the suspect until he agreed to calm down. When he let him up to go back to his car to call 911, the suspect picked up an electric scooter and threw it through his back windshield before fleeing eastbound on 7th Street. 
The incident, which was captured on video by multiple witnesses, almost immediately went viral on social media. Investigators spent the day trying to identify those involved in the incident and could not immediately say if the pedestrian who threw the scooter is homeless. The case has been classified as criminal mischief.
Anyone with video of this incident or information about the suspect is asked to call 512-974-5320. You can also submit tips by downloading APD's mobile app, Austin PD, for free on iPhone and Android. 
---
RELATED
Rush hour fight in Downtown Austin ends with scooter in a car