Austin FC nonprofit, partners unveil new soccer mini-pitch in Taylor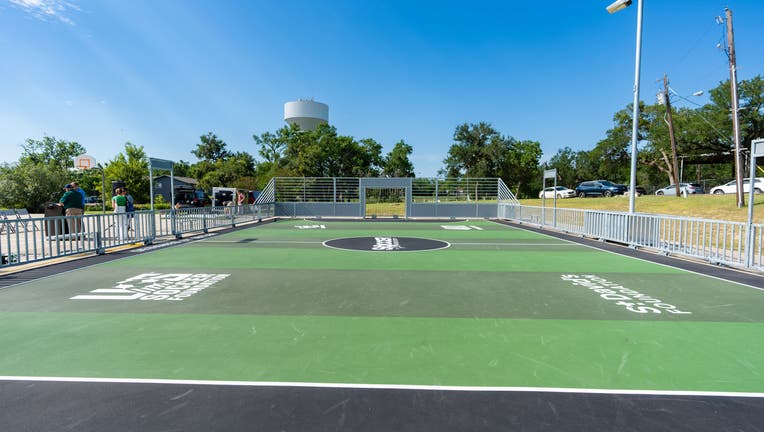 article
TAYLOR, Texas - A new mini soccer pitch was unveiled in Taylor last weekend as part of a partnership between Austin FC's non-profit arm, the City of Taylor and other organizations.
Austin FC's nonprofit arm 4ATX Foundation, alongside Soccer Assist, the U.S. Soccer Foundation, St. David's Foundation and the City of Taylor unveiled a new soccer mini-pitch at Murphy Park in Taylor, Texas on Saturday, June 10.
The formerly underutilized space has been transformed into a state-of-the-art soccer mini-pitch, which was designed pro bono by The Butler Brothers.
"We're delighted to have played a part in bringing another mini-pitch to a central Texas community," said Kaitlin Mauro, executive director of the 4ATX Foundation. "We've seen our other mini-pitches quickly become amazing spaces for families to gather and enjoy playing soccer together, and we're grateful to our partners for helping create our first in Taylor."
The Murphy Park mini-pitch is the seventh in Central Texas which 4ATX Foundation has helped install in collaboration with the U.S. Soccer Foundation, joining pitches in Uvalde, north Austin, Bastrop and southeast Austin.
Organizers held an event to kick off the new mini-pitch. Young soccer players used the field for the first time, and the event also featured food, music and a ribbon-cutting ceremony.
"What an honor it has been to help launch this latest court in beautiful Murphy Park," said Soccer Assist founder Aaron Rocklen, Ph.D. "Taylor is a unique, diverse, soccer-hungry community so deserving of this innovative, recreational community asset."
"The City Parks and Recreation Department is excited to have the mini-pitch addition to Murphy Park. A project like this has definitely been needed in our parks system," said Tyler Bybee, Taylor Parks and Recreation Director. "We want to thank St. David's Foundation, 4ATX, Soccer Assist, and the U.S. Soccer Foundation for bringing this awesome project to Taylor."
Click here to see a map of al the mini-pitches in central Texas which 4ATX Foundation has helped install.
Click here to see where the U.S. Soccer Foundation has installed mini-pitches across the country.