Austin High School students speak out on baseball coach charged with assault
AUSTIN, Texas - Austin High School students say they're shocked to hear longtime head baseball coach Billy Brown is charged with assault, and is accused of kicking a student in the face last Tuesday.
"I think it did cross the line," said one junior that spoke with FOX 7 Austin.
Brown was arrested on Tuesday.
"I was kind of surprised. You know, Coach Brown has been around for a long time," the student said.
RELATED: Austin high school baseball coach arrested for allegedly assaulting student
According to the arrest affidavit, Brown tried to stop an 18-year-old from entering the school through the athletics entrance. Brown claims the student wasn't wearing an ID.
"We're supposed to wear IDs when we come to school and a lot of kids don't," said the student.
According to the affidavit, on surveillance video "Brown is seen walking after [the student] and uses his right hand to grab [him] from behind, by the back of his collar…Brown then places his left hand behind the student's neck and swings the student's body backwards and attempts to throw him to the ground…"
You can view the arrest affidavit below: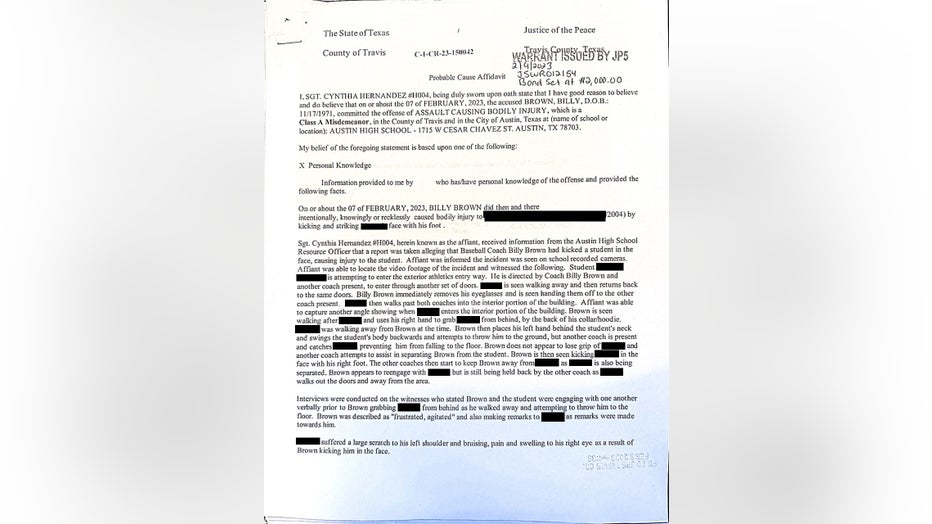 The affidavit says another coach who was next to Brown caught the student before he hit the ground. The other coach then tried to separate Brown from the student, and that's when police say security video appears to show Brown kicking the student in the face.
"I think it's good that there is more evidence of it then just 'he said, she said'," said the student.
Police say the student suffered a large scratch on his shoulder, and bruising, pain and swelling to his eye.
"That outrages me. To be honest," said Austin resident Tyler Ferguson.
Ferguson walks his dog near the baseball field. He says he's seen coaches being tough on students, but nothing like this.
"If I ever witnessed something like that in the future, you know, I would stop it," said Ferguson.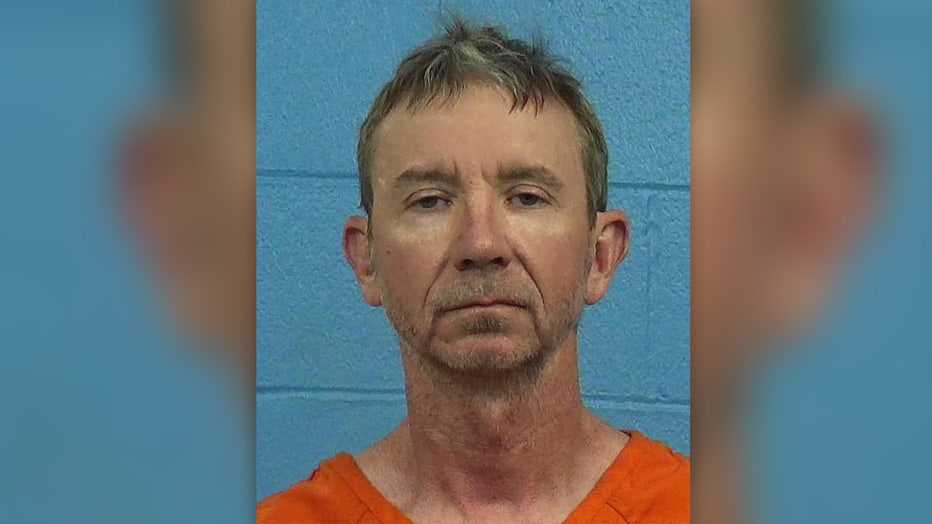 In a new statement Monday, Brown's attorney Rick Flores defended his client's actions, saying:
"Austin ISD has a solid safety policy that prohibits unidentified visitors from entering school buildings from exterior side doors.  This particular person was not displaying the required ID badge and also did not identify himself as a student.  He threatened Coach Brown and then, after being told to go to the front entrance to the school, tried to enter through that side door multiple times.  He ultimately made his way into the school through that prohibited door and, in that moment, Coach Brown acted. 
Austin ISD teachers are instructed and given specific training by the District to not let unidentified visitors enter the school from exterior side doors.
Imagine the scenario playing out as follows: An unknown person approaches the side door, doesn't have the ID badge that all students and visitors are required to display, doesn't say who he is, insists on coming into the school through that side door, threatens the teacher, and still goes into the school through that door after being told multiples times to go to the front of the school.  But this time—the teacher disregards his training and just lets that person walk right in.  And then something terrible like Uvalde happens. Or Sante Fe. Or Parkland. Or Sandy Hook."
"Coach Brown was a big guy. The school and, I mean, the baseball team loved him a lot. I got friends who play baseball, and they said they were really sad that this happened," said the student.
But the student says if the allegations are true, "I think he should stay away from Austin High."
Brown was released on $2,000 bond. He is still employed by Austin High School, but has been removed from his duties, for now. 
FOX 7 reached out to Austin ISD, as well as AHS principal Dr. Melvin Bedford, but has not heard back.