'I'm going to die:' Austin woman recounts terrifying flight to Germany
AUSTIN, Texas - An Austin resident was one of seven people that were reportedly sent to the hospital after a flight headed to Europe experienced "severe turbulence."
Lufthansa Flight 469 left Austin on March 1 headed for Frankfurt, Germany.
Dr. Rolanda Schmidt, whose daughter is a professional volleyball player, was flying to Europe to watch her play. She said it was about an hour into the flight when everything started. They had just served dinner and the seat belt light was off.
"It just literally [dropped] as though the plane was not going to stop, I just get emotional thinking about that moment, it was accelerating down at a point or going down to a point where you just thought, 'I'm going to die,' I literally had come to that resolve," said Dr. Schmidt. "And then just as quickly as it was going down, it went back up at that rate."
The first drop caused her to hit her head on the luggage compartment.
"The gentleman next to me grabbed under my left arm and held me down…so that I wouldn't go up and down anymore," she said. "We don't even know each other, and we're kind of like just interlocked, and I'm praying, literally in my mind, 'Lord, please, if this is it, let my family know I love them.'"
RELATED: Camila Alves McConaughey on Austin flight that 'dropped almost 4,000 feet'; 7 people reportedly hurt
Schmidt described a chaotic scene, passengers screaming, food everywhere and her phone thrown across the plane. She estimated the whole ordeal, multiple ups and downs, lasted a few minutes or more.
She eventually was able to get her phone and text her husband, saying, "I think we are going to die, oh my goodness, love you." She also recorded a video message for her kids.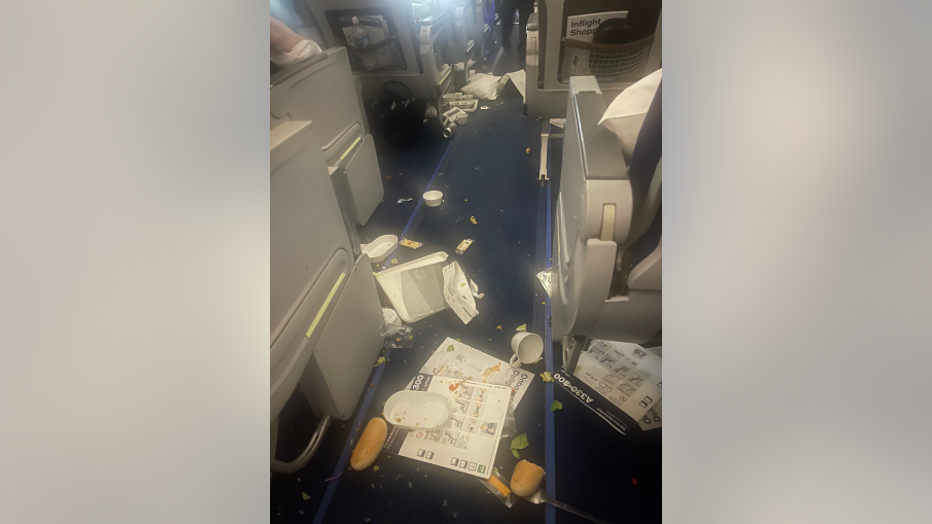 Dr. Rolanda Schmidt was one of seven people that were reportedly sent to the hospital after a flight headed to Europe experienced "severe turbulence."
The flight eventually made an emergency landing at Dulles International Airport in Virginia where first responders were waiting. Schmidt went to the hospital when a loud ringing in her ear wouldn't go away after hitting her head. She also had trouble moving her arm.
She eventually made it to Greece and was able to watch her daughter's volleyball game. However, despite being incredibly anxious about flying again, she decided to cut her trip short after starting to experience hip pain and realizing she needed to see her doctor at home.
"I would just say, don't be afraid to fly completely. I mean, we have to go places, we have to do things, and when tragedy and fear happens, if you have trepidation, that's okay…but walking through it with faith can really, I think, make a difference," said Dr. Schmidt. "And yes, it is important to buckle up, so I'm not going to negate that, but I also think it's important to remember the physical, psychological, mental and emotional health of every single person who has been through something like this, it's going to change them, and some people it may not, but those that it does - meet them where they are and be there for them."
The FAA said in a statement the flight had encountered "severe turbulence at 37,000 feet altitude over Tennessee."
While the investigation is ongoing, it may have been "clear air turbulence," a form of severe turbulence that isn't caused by storms and can't be seen on radar. According to the FAA, it is most common in the vicinity of the jet streams.