"Black Austin Rally and March for Black Lives" protesters march to the capitol
AUSTIN, Texas - "#JusticeForThemALL" is what is hashtagged on the official Black Austin Rally and March for Black Lives event which is currently underway.
The rally started at Huston-Tillotson University at 1 p.m. followed by a march to the south entrance of the Texas State Capitol.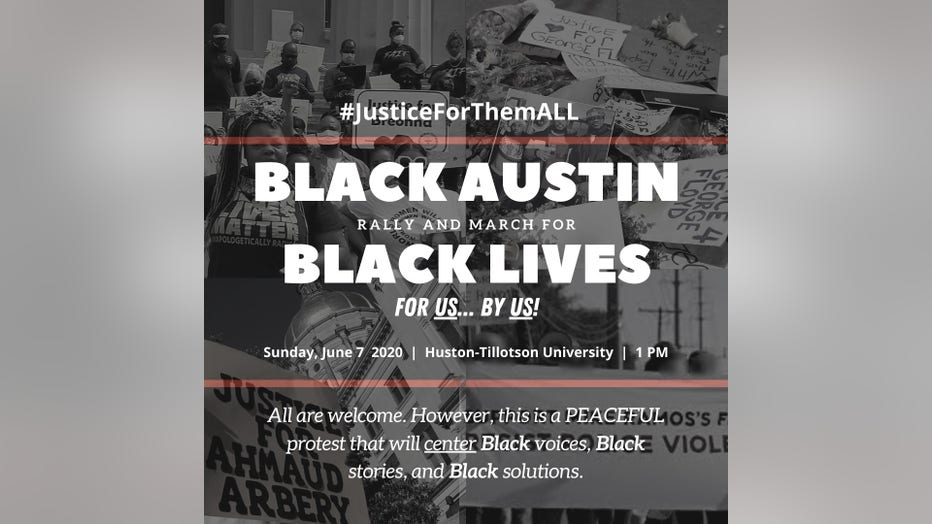 (Black Austin Rally and March for Black Lives)
"This is something that everyone is invited to, but we will be centering this moment around Black voices, Black stories, and most importantly Black solutions in this time!" the event states. Organizers state that everyone is encouraged to come and "listen to Black people and heat what we have to say." 
CLICK HERE FOR THE LATEST INFO ON THE DEATH OF GEORGE FLOYD
Protests, mostly peaceful, have erupted nationwide over the police-involved death of Minneapolis man George Floyd. The protests have lead to the arrest of the ex-police officer, Derek Chauvin, who pinned Floyd to the ground with his knee for eight minutes and 46 seconds. Another three officers have also been arrested in connection to the incident that lead to Floyd's death. 
Sunday will mark the tenth day of protests in Austin over the deaths of Floyd and Mike Ramos, who was shot and killed by an Austin Police Department officer earlier in the year. 
RELATED: Protesters gather outside APD headquarters, demand justice for man shot by police
Since the protests began in Austin, video footage has surfaced of APD officers using tear gas and "less-than-lethal" munitions on protesters. The videos, one of which shows a 16-year-old boy being shot in the head with a bean-bag round, lead to a special two-day city council meeting that discussed APD's actions during peaceful protests.
RELATED: Travis County DA: 10 investigations into allegations against APD over protests currently open
During the meeting, Austin Police Cheif Brian Manley released new general orders to officers, stating that bean-bag rounds would not be used for crowd control. 
RELATED: APD Chief Manley says police will no longer use bean bag rounds for crowd control after two critically injured
The event's official Facebook page states that over 4,000 are expected to show to the rally on Sunday afternoon. Organizers say that entrance to the event will be from Chalmers Avenue only and that the rally will take place on the university's athletic field. Individuals will receive a mask upon entering the campus which is a university requirement, and organizers also state the campus will be closed to the public once protesters start the march to the capital. 
Protesters will then march east down 7th Street towards Congress Avenue then north to the capital.
Attendees can see the route map below: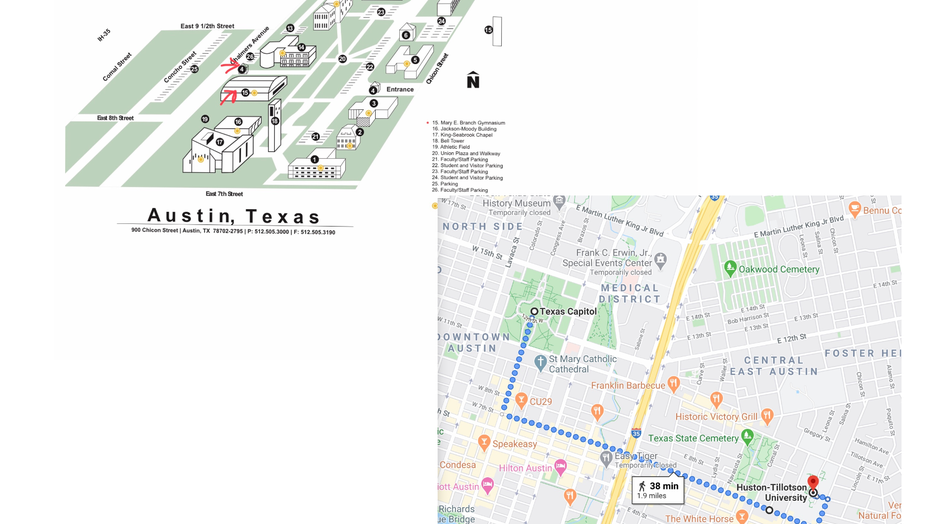 (Black Austin Rally and March for Black Lives)
Organizers also recommend attendees to bring these items for the rally and march: 
• A small, durable bag/backpack
• Face mask/bandana (bring a backup mask, and extras to share if you have 'em)
• Water
• Sunblock
• Hand sanitizer
• Hat and/or sunglasses
• Snacks
• Protest Sign(s)
• A change of clothes
• Your ID
• Mobile power bank (charging devices)
• Emergency phone numbers & medical info
• Medications you must take on a strict schedule (in case you are away from home longer than expected)
• Choose glasses over contacts! (You don't want to be exposed to tear gas or pepper spray w/ contacts in)