Buda drive-in finding success amid renewed interest in drive-in theaters
BUDA, Texas - Many theaters remain shut down as they figure out a way to do business with COVID-19 guidelines in place but that doesn't mean you can't go catch a film on the big screen.
Drive-in theaters were popular destinations in the late 1950's and 1960's but have seen a slow decline over the years. Now they're seeing a resurgence in popularity amid the pandemic.
RELATED: Coronavirus shuts down movie theaters, but you can still go to a drive-in
In Central Texas, there are only a handful of drive-ins and one of them is Doc's Drive-In Theatre in Buda. About four years ago, owners Sarah Denney and Chris Denney began work on Doc's.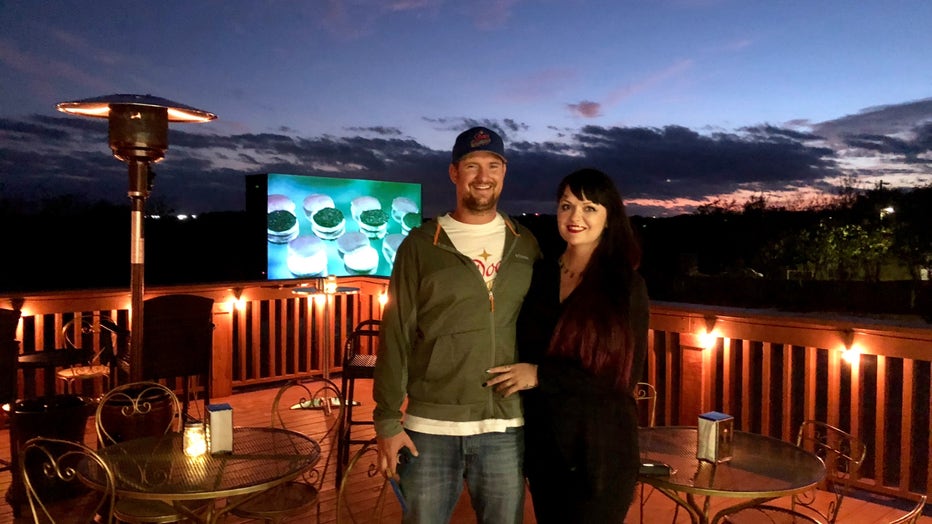 "We really like Buda. We used to live in Buda and we thought why not do something really cool in Buda," Sarah says.
Sarah recalls that it "was really interesting at first" as the land they were building on was filled with cows and that they even got chased by a few of them while they were out working. Luckily the cows didn't deter Sarah and Chris and two forged ahead building the screens and concession stand from shipping containers. 
SIGN UP FOR FOX 7 AUSTIN EMAIL ALERTS
A unique feature of Doc's is that there are several tiny homes on the property that people can rent out. The homes are themed after one classic film, "Breakfast at Tiffany's" and two classic film franchises, Star Wars and Harry Potter.
"The tiny homes are awesome," Chris says. "Everybody has a good time in them."
---------
Get breaking news alerts in the FOX 7 Austin News app. It is FREE!
---------
Chris says the tiny homes are a big draw. "At first the tiny homes were being booked solid and then they would come over to the drive-in and they would watch a drive-in movie and the drive-in was a little bit slower at first."
When the pandemic hit, Chris says they had to stop bookings at the tiny homes and the drive-in began getting busier as theaters shut down due to restrictions on mass gatherings and social distancing. 
"We were definitely scared like everybody else," Chris says. "We just had to get creative and be able to figure out is it possible to still do what we're doing and keep everybody safe."
Doc's was shut down for a short time for safety reasons and it gave Chris and Sarah time to figure out their priorities and redo their process.
One of the things Chris says that works in their, and other drive-ins, favor is that "picking up food at a restaurant and sitting in your car and eating it in the parking lot is basically the same thing as having a movie on." He says they explained that to people and Doc's was allowed to remain open with modifications.
There aren't any indoor dining areas but there are some spots people could sit outside which are gone for now.
"Literally it's you come sit in your car. We can drop (food) off (on) the hood of your car (or) you can pick it up and go back to your car," Chris says. "It's very safe."
RELATED: Drive-in theaters see boom in business during COVID-19 pandemic
Doc's offers its own food at its concession stand including its own smoked brisket, homemade burgers, and sauces made from scratch from family recipes. It also has a beer and wine license so those items can be purchased as well.
To maintain even more social distancing, people can order food online so they really don't have to get out of their cars at all if they don't want to.
As for the movies, there are two screens on the property and each can accommodate 45 cars so 90 cars in total can enjoy a movie at a time.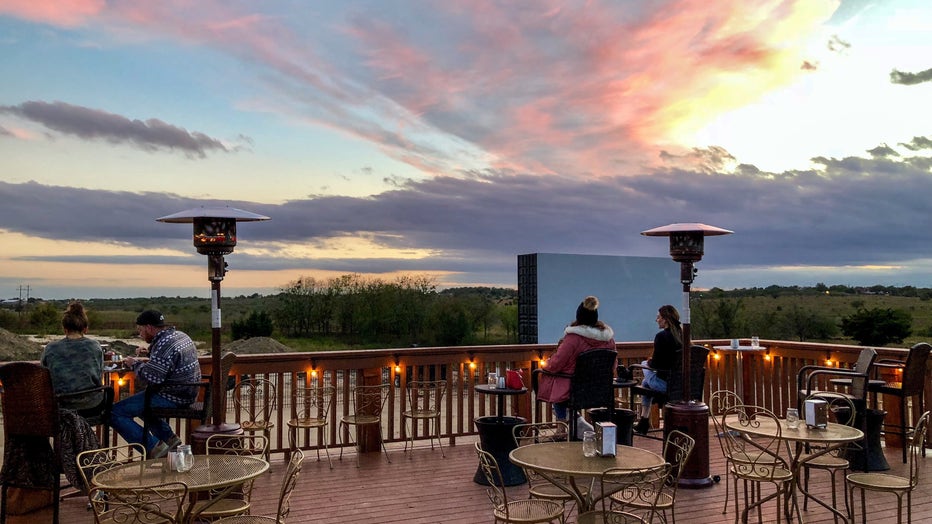 "We definitely pick movies we really like. Things that make people feel happy or bring nostalgic feelings towards childhood memories like "The Goonies", who doesn't love that movie?" Sarah says. 
Sarah says they also play "a lot of action movies and older movies. I'm a Turner Classic Movie fan so I really like the older movies. So yeah we play a variety of things."
"We really should call it just Sarah and Chris double features because she picks one and I pick one," Chris says.
CLICK HERE FOR THE LATEST INFO ON THE CORONAVIRUS OUTBREAK
The movies are switched up and some movies might play multiple times a week or not play for a while but it definitely gets changed every week.
Another change Sarah and Chris say they're making is having more events at Doc's. One such event, a wedding, recently went viral.
The couple, Bri and Lindsey Leaverton, had their wedding canceled and Sarah says the couple wanted to do something unique and they wanted to do it at Doc's. In just 14 days, Sarah says they were able to pull off the wedding.
Chris says it was a tough challenge as they'd never done anything like it before but he and Sarah says that they were happy to be able to do it and that everyone had a great time and that the wedding was "perfect" and "beautiful."
"They looked great. Their kids looked so cute," Sarah says. "It was fun."
"The toasts were all in the car instead of everybody cheersing everyone was just honking their horns and stuff," Chris says.
Sarah says they have other weddings coming up and are also doing some graduation events and in the future plan on hosting a music festival.
RELATED: Texas restaurants, stores, malls, movie theaters can reopen May 1 at reduced capacity
Chris and Sarah also say they're building an underground 1920's speakeasy bar and a private swimming hole as well.
With the food and movies and the tiny homes and all the planned amenities, "We're kinda like a one-stop-shop," Sarah says.
For more information about movie showtimes and to book the tiny homes you can go to Doc's Drive-In Theatre's website.
__
FOX 7 Austin is working to keep you up to date with coronavirus, with both local and national developments. Every weekday we're live at 12 p.m. with a special show reporting the latest news, prevention tips and treatment information.
You can watch live in your FOX 7 Austin app or on the FOX 7 Austin Facebook page.
You can also get the latest COVID-19 news from around the country at coronavirusnow.com.