Central Florida officers get too much Facebook love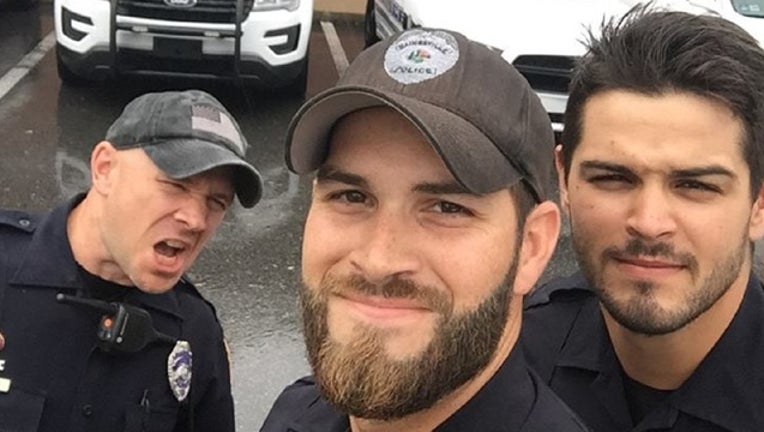 article
GAINESVILLE, Fla. - Three Central Florida police officers have become social media sensations this weekend thanks to a post by their department.
App users: View full article here
A post on the Gainesville Police Department's Facebook page Sunday afternoon original showed a photo of the three officers along with text that read:
"Officers Nordman, Hamill and Rengering...part of the night crew getting ready to do some work. #Irma"
Since it originally, the comments started to pour in, nearly 28,000.
"I need to be rescued! Wait. I'm in Gainesville, vA!" one woman wrote.
"I might need to do something illegal soon," another commenter stated.
"Now this is a reason to go back to school #Protect&ServeMePlease," replied one woman.
"I'll be part of their night crew," was another popular comment on the post.
"There are no words. Just yumminess. New background for my phone," stated another woman.
The post, which was shared near 42,000 times by Tuesday drew so much attention, it required an update which read:
UPDATE:
1. We are dying with the comments. You've actually made our chief blush with some of them.
2. MRS. Nordman and MRS. Hamill have also enjoyed knowing how millions of women are going crazy over their husbands.
3. We can confirm that Officer Rengering (far right with the amazing hair) IS SINGLE.
4. On another note, Officer Rengering is being placed into Cougar Prey Protective Care, similar to the witness protection program for his safety.
5. Please do not call 9-1-1 and request this group respond to your "incident"
6. There WILL be a calendar.
Thank you all for the hilarious comments...they have brightened our time up here. As for the calendar, we are going to try and do something fairly quickly and funds raised will go to Hurricane Irma recovery here in Florida.
No word yet on that calendar.