Chicago places 'Real Fake' sculpture in front of Trump Tower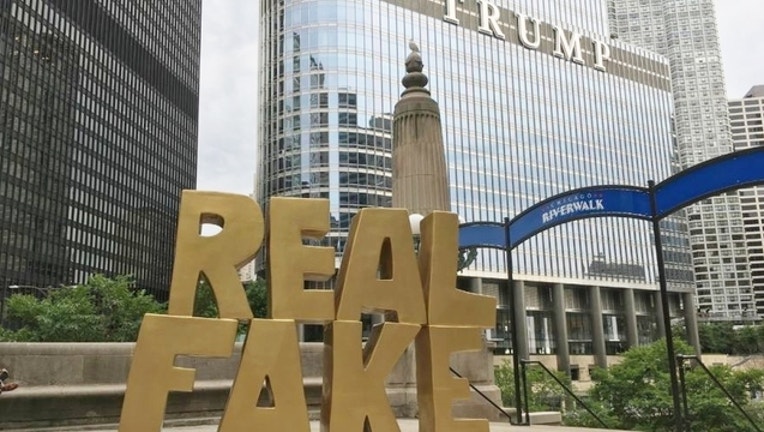 article
FOX NEWS - The Windy City is under fire for apparently turning public art into a political message.
The City of Chicago installed a 5-foot tall, golden sculpture that spells out "Real Fake" directly in front of Trump International Hotel and Tower in the city's busy downtown area, along the Chicago River.
A city spokesperson said the message and placement of the art is not a political statement. It was just, the spokeswoman said, coincidence.
"Any questions about the artist's intention or the artwork's background should be directed to the artist's gallery Kavi Gupta," wrote Christine Carrino, the communications director for the Chicago Department of Cultural Affairs and Special Events.
The statue is bolted into a large public sidewalk space in front of Trump Tower, an area that over the past year has been commonly used for Trump protesters who gather to demonstrate and for tourists and supporters who want a picture in front of the glistening blue sky scraper.
Carrino did not respond to questions by Fox News about the placement of the sculpture. The Chicago Tribune reports in an article that Carrino said the artwork is up for "interpretation."
The "Real Fake" fiberglass sculpture was installed by Chicago's Department of Cultural Affairs. It's one of five artworks that will be placed along the city's heavily-used Riverwalk as part of the "Year of Public Art."
A spokesperson for Chicago Mayor Rahm Emanuel responded to Fox News' request for comment, writing: "Art at its best makes a statement. And this piece certainly makes a real statement."
The statement has been grabbing the attention of people walking by.
"They should stay out of politics," said Rich Szymanski, a tourist from Pittsburgh who took pictures of the sculpture. "They're making a statement against the president of the United States, even though I personally don't agree with him."
Darryl Cotton, who stopped to take a picture of the sculpture, said it was appropriate.
"The whole phrase of real and fake news he sort of brought to the forefront," Cotton said, "so pretty much it's in its proper place."
John Kowalski pointed to the large sign on the Trump building that bears the president's name.
"Is the sign on the building coincidental?" Kowalski said. "I don't think either of them are coincidental."