D.B. Cooper hijacking happened 50 years ago
SEATTLE - A man who called himself Dan Cooper, also known as D.B. Cooper, hijacked a Boeing 727 over the Pacific Northwest 50 years ago. 
On Nov. 24, 1971, Cooper bought a one-way ticket from Portland to Seattle on Northwest Orient Airlines. 
As he waited for the flight to take off, Cooper, who was dressed in a business suit, with a black tie and shirt, ordered a bourbon and soda. 
RELATED: Legendary hijacker D.B. Cooper alive and well in California, filmmakers say
According to the FBI, he handed the stewardess a note that indicated that he had a bomb in his briefcase and wanted her to sit with him. Cooper opened the case and showed the stewardess wires and sticks and demanded her to write down what he told her.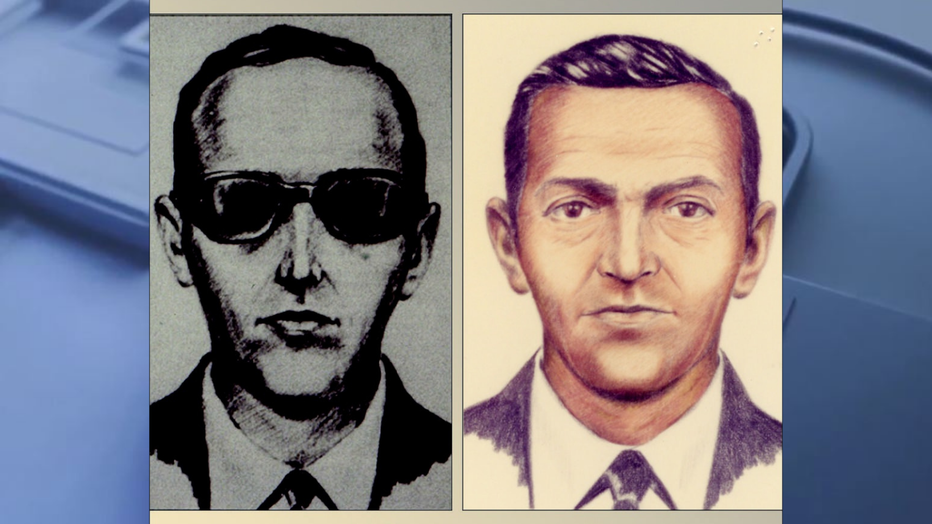 She brought the note to the captain of the plane. It demanded parachutes and $200,000 in $20 bills in exchange for the release of 36 passengers. 
The flight landed in Seattle and Cooper kept several crew members on the plane and it took off again. The plane was ordered to fly to Mexico City. 
The FBI said after leaving Seattle, Cooper jumped out of the back of the plane with a parachute and money. The mystery behind his disappearance remains unsolved. 
No sign of Cooper had emerged, though bundles of his cash, matched by serial numbers, were found. 
The FBI had been investigating but in 2016, the bureau said it was no longer actively investigating the unsolved mystery. 
RELATED: FBI no longer actively investigating D.B. Cooper case
The FBI conducted searches, collected all available evidence and interviewed all identified witnesses. It said it had chased an immense number of tips but none have resulted in identifying the hijacker.
The Associated Press contributed to this report.
Watch FOX 13 Seattle for the latest news:
Stay connected with FOX 13 News on all platforms:
DOWNLOAD: FOX 13 News and Weather Apps
WATCH: FOX 13 News Live
SUBSCRIBE: FOX 13 on YouTube
DAILY BRIEF: Sign Up For Our Newsletter
FOLLOW: Facebook | Twitter | Instagram