DA: Woman arrested for illegally debarking dogs in Lancaster County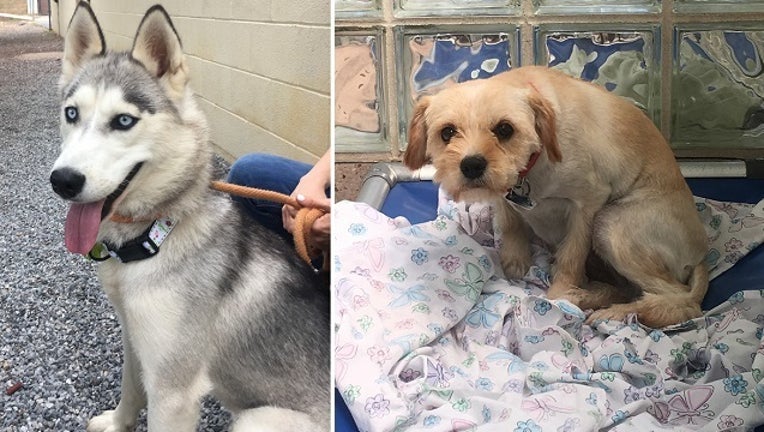 article
(WTXF) - Authorities have arrested an Iowa woman who they say illegally debarked multiple dogs in Lancaster County earlier this year.
Denise Felling, 55, was arrested by the Iowa County Sheriff's Office on Friday afternoon, and is expected to be extradited to Lancaster County to face eight charges of animal cruelty.
Felling was charged with debarking four dogs: a husky, a Doberman pinscher, a beagle mix and a spaniel mix.
The Pennsylvania SPCA's Humane Law Enforcement team rescued 15 dogs from the home of Anne Beiler​​, an unlicensed breeder in Quarryville, Pennsylvania, on May 24, over concerns that an adult female husky had been debarked. The nonprofit says two other dogs on the property had been debarked in 2016, before Libre's Law took effect.
In September, Beiler formally identified Felling as the person who performed the debarking procedure of Rosella, the husky rescued by the PSPCA.
Felling was later identified as the person who debarked three other dogs in Lancaster County in January 2018. Those dogs were similarly seized by the PSPCA and have since found loving homes.
Pennsylvania prohibits devocalization, also known as debarking, of any dog for any reason unless the procedure is performed by a licensed veterinarian using anesthesia.
Prosecutors say Felling performed the debarking procedures by shoving a rod-like object down the dogs' throats multiple times on farms in Quarryville and Kinzers.
Felling formerly had a veterinarian license in Iowa, which has since been revoked, but never obtained one in Pennsylvania. 
"The idea that a woman who was formerly entrusted by the state of Iowa to provide medical care and treatment of animals would turn her back on that to torture dogs in this way is disheartening to say the least," said Nicole Wilson, PSPCA Director of Humane Law Enforcement. "We intend to get justice for these dogs who were victims of such horrific cruelty and ensure that not one more dog is subjected to such a procedure."
Anyone with information about this case, or other cases of animal cruelty, is urged to call the PSPCA's Cruelty Hotline at 866-601-7722. Animal cruelty can also be reported by filling out the PSPCA's online form here. Tips can be left anonymously.
Those interested in donating to the PSPCA can do so here.