Daniel Perry found guilty of murder in death of Austin protester in 2020, jury states
UPDATE:
AUSTIN, Texas - After deliberating for nearly 16 hours, the jury in the Daniel Perry murder trial reached a verdict. 
On Friday, April 7, Daniel Perry was found guilty of murder in death of Black Lives Matter protester Garrett Foster on July 25, 2020.
He was not found guilty of aggravated assault with a deadly weapon.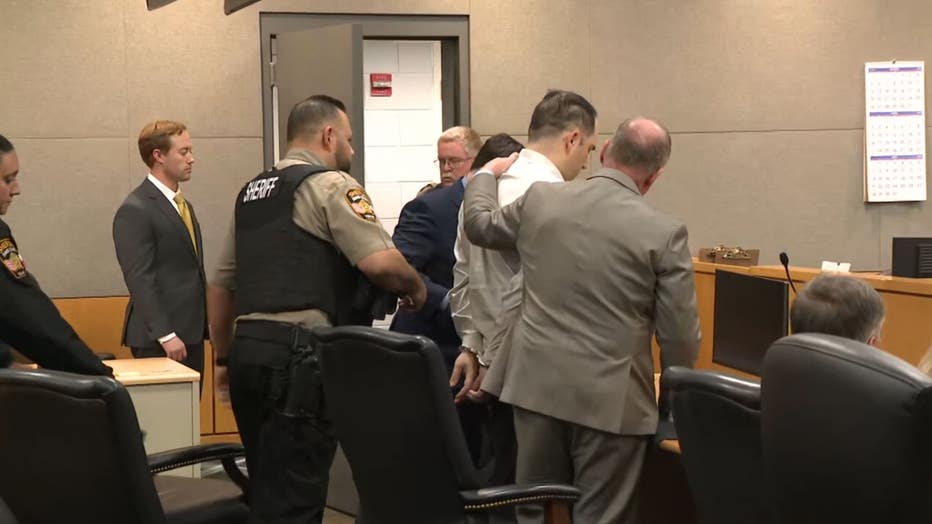 Daniel Perry was found guilty of murder in the death of Garrett Foster, a Black Lives Matter protester, in 2020.
"I'm grateful to our dedicated career prosecutors and victims' counselors who tried this case. They worked hard to make a complete and accurate presentation of the facts to the jury," Travis County District Attorney José Garza said. "Our hearts continue to break for the Foster family. We hope this verdict brings closure and peace to the victim's family."
ORIGINAL STORY BELOW:
In a packed courtroom, closing arguments took place in the murder trial of Daniel Perry before the jury began deliberating. The jury is tasked with deciding if Perry is guilty or not guilty, for murder and aggravated assault with a deadly weapon. 
Each side had 90 minutes to hammer out their case.
The state claimed Perry intentionally drove into the crowd of protesters the night of July 25, 2020, and killed Garrett Foster.
"Daniel Perry was not legally justified in using deadly force against Garrett Foster," said Libby Lawson, state attorney.
The defense claimed what Perry did that night was self-defense.
"This case is about legitimate self-defense. Daniel Perry had two tenths of a second to decide what he had to do," said Doug O'Connell, defense attorney.
Attorney Lason with the state reminded the jury of previous posts and messages made by Perry months before the incident.
"I only shoot the ones in front and push the pedal to the metal," Lawson read off one of Perry's posts.
She specifically acknowledged messages Perry sent to his childhood friend Michael Holcomb referencing different incidents involving people shooting protesters. Perry asked Holcomb each time if those cases were justified.
"These conversations with Michael Holcomb are starting to look like a playbook for what you would do if you wanted to use force in these situations," said Lawson.
The defense took a much different approach when starting opening arguments. Defense attorney Clint Broden asked for the jurors to close their eyes and imagine themselves in Perry's shoes the night of the incident. Once he did that, he kicked the mock car door to try to replicate what a kick to Perry's door from a protester might have sounded like.
He also took time to remind the jury of how other witnesses testified Foster was holding his rifle.
"One, two, three. [Three] different people have that rifle almost parallel to the ground," said Defense attorney Broden.
RELATED COVERAGE:
Defense attorney Doug O'Connell took time to compare Foster's clothing to Perry's clothing the night of the incident. He said Foster was dressed like he was looking for a fight while Perry was dressed like he was going to the beach.
State attorney Guillermo Gonzalez reminded the jury Perry ran a red light that night when he turned into the crowd of protesters. He reiterated this whole trial could have been avoided if he just stopped.
"You know why we're all here? Because [Perry] decided. He decided to blow a red light. [Perry] shot [Foster] five times. Shot him dead because he couldn't stop for a red light," he said.
The jury will work until 8 p.m. on Thursday, April 6. If a verdict is not reached by then, the jury will come back Friday morning.