Dense fog causes problems for travelers at ABIA, delayed flights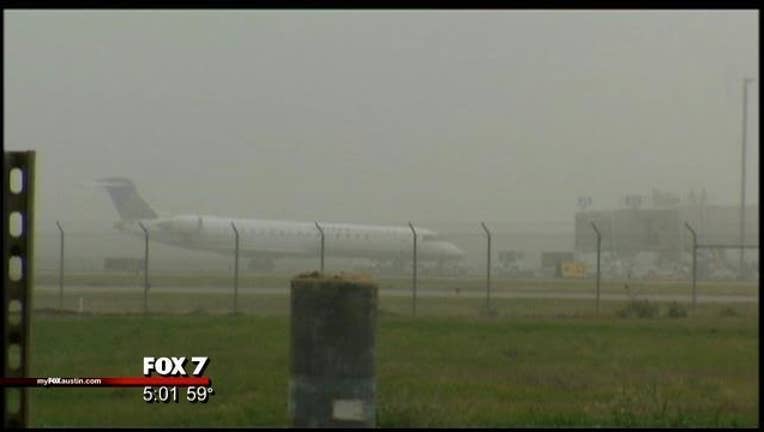 article
AUSTIN, Texas - A foggy morning is still causing problems at Austin Bergstrom International Airport.
Numerous flights have been delayed and canceled for most of the day.
Many people are showing up to the airport only to find out that their flight is either delayed or canceled.
The best advice, is to check the status of your flight before heading out.
It's been an interesting past few days for Patricia Goldstein and her husband.
"We've been trying to get to San Juan, Puerto Rico since Sunday," says Patricia Goldstein, traveler.
They had an important business meeting to make but things didn't work out as planned.
Sunday their flight was canceled from Austin to Dallas because of the weather; Tuesday wasn't any different.
"When we got to the airport today, our flight here was delayed so we would miss our connecting flight in Dallas to get to San Juan. So we canceled our trip because they can't get us out today again," says Goldstein.
That's because Austin Bergstrom International Airport put a ground stop for all arriving flights Tuesday morning.
It lasted for about an hour and a half.
The foggy weather continued through the afternoon and resulted in low visibility.
At this time, arriving flights are still being affected.
This has caused a headache for Sara Merker.
It took her more than an hour to rebook her connecting flight.
"I was supposed to leave here at 2:00 p.m. and then get a connection flight, which it got delayed to 3:00 p.m. I was going to miss my connection by about 10 minutes. I had to rebook my connection. So now when I get to my connection I have a layover of three hours now, where as before, I would have just hopped on," says Sara Merker, traveler.
There has also been close to 70 flight departure delays, as well as a handful departure and arrival cancellations.
Some of them due to the fog and others because of bad weather conditions across the country.
For Raynne Jones, the delay hasn't been easy.
"I heard about the delay probably 30 minutes before. I got a notification to my email and it told me my flight was going to be delayed. It just makes it a little frustrating when you're traveling with a child, makes it really hard to travel and move around and everything is crowded," says Raynne Jones, traveler.
As for the Goldsteins, they are just hoping they can finally leave the airport.
"Now we're hoping we can get our luggage and take it home with us," says Goldstein.