Department of Justice sues Texas over floating border barrier in the Rio Grande
DALLAS - Governor Greg Abbott told President Joe Biden in a letter Monday that Texas will not remove the floating border barrier in the Rio Grande.
Now, the Department of Justice is suing the state of Texas, and the deadline for the state to respond was Monday.
Abbott says the barrier is to stop migrants from entering Eagle Pass.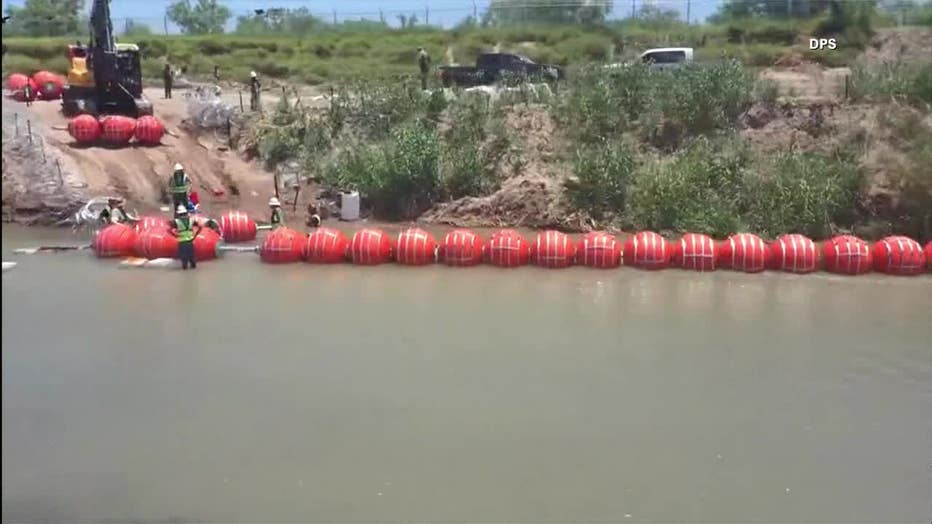 Gov. Abbott says the constitution allows Texas to protect itself. The border issue is likely to reach the Supreme Court. 
On the heels of a Department of Justice lawsuit, Gov. Abbott told President Biden by letter that Texas will not remove its floating border barrier in the Rio Grande. 
"The governor has couched it in terms of some old, not often invoked but valid constitution provisions about a state's ability to protect itself. But at the end of the day, no matter how clever that argument may be, he is asking to do something about immigration," explained constitutional law attorney David Coale.
The barrier stretches three football field lengths in the river. Friday, the DOJ threatened to sue if the barrier was not removed. 
"He can go pile up more of them if he wants to right now. Sooner or later, I think a federal judge will say stop it, or take it out or come back to me with a plan," Coale said.
Abbott told Biden, "If you truly care about human life, you must begin enforcing federal immigration laws. By doing so, you can help me stop migrants from wagering their lives in the waters of the Rio Grande River. You can also help me save Texans, and indeed all Americans, from deadly drugs like fentanyl, cartel violence and the horrors of human trafficking." 
Hours after the Abbott letter, the DOJ filed its lawsuit saying Texas unlawfully installed the barrier without permission.
Lt. Chris Olivarez with DPS gave an update from Eagle Pass as more migrants were seen trying to cross. 
"I asked them why don't you go to a port of entry? Why don't you use the CBP One app? They say they have been waiting in Mexico for months and waiting for an appointment for months and the CBP One app is not working," Olivarez said.
If a federal judge rules in the Biden administration's favor, it would likely go to the 5th Circuit Court of Appeals.
"The 5th circuit is one that may take a really strong opinion in favor of Texas, depending on how the issues come to it. That can draw the attention of the Supreme Court. We have no idea how that will play out. That is some time down the road," Coale said.
The Texas Attorney General's Office said it is ready to defend Texas in court.