Dramatic video shows officer pull woman from burning car after she fled from police
A Georgia police officer is being praised for rescuing a woman from a fiery car after she fled from police and led him on a high-speed chase.
Dashcam and body-worm video shows Cobb County Police Officer Clay Musselman pursuing a vehicle he reported as "driving erratically" at speeds "in excess of 100 miles per hour."
The driver managed to speed away from Musselman, and he was told not to pursue her further. A few minutes later, Musselman approached a crash at a curve in the highway, then watched the vehicle burst into flames.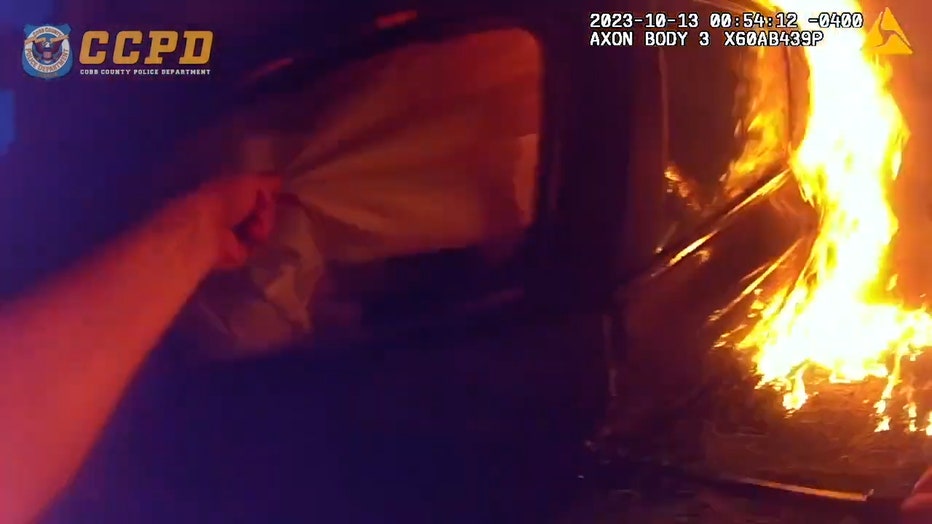 Police officer rescues woman from burning car (Cobb County Police Department via Storyful)
As he approached the car, he heard the driver crying for help. Video shows the terrified woman screaming and unable to get out. Musselman was able to get to the woman and pull her out before the car was further engulfed in fire.
READ MORE: A $1.4M speeding ticket surprised a Georgia man before officials clarified the situation
The Cobb County Police Department praised Musselman for his "extraordinary bravery" and putting "his own safety at peril to save a life."
READ MORE: Atlanta police rescue child from stolen vehicle after brother tracks iPad inside vehicle
The driver broke her arm and fractured her hip. It's unclear if she is facing criminal charges.