EMS warns Austin about danger of sizzling temperatures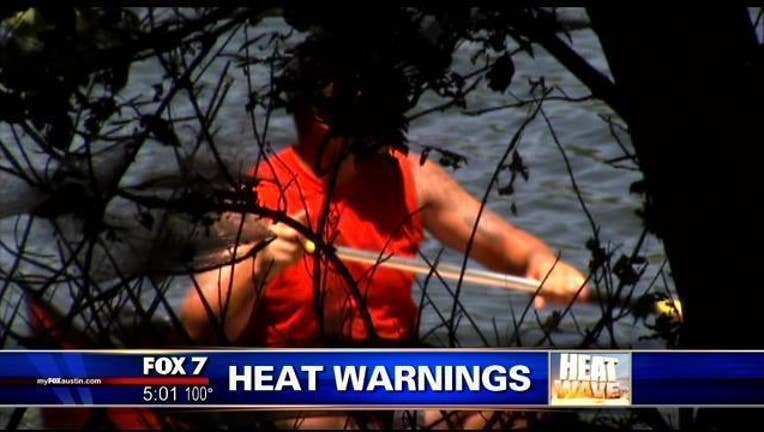 article
Heat doesn't seem to be going anywhere anytime soon Austin-Travis County EMS officials are warning everyone out there that they should not take the threat of heat stroke lightly.
The dog days of summer are here.
"This summer though, it's just kind of like, fallen down on us. We've had two weeks now of 100 degree heat," said Chris Stafford, lake visitor.
Austinites like Stafford try to get a break from the consistent heat by heading down to Lady Bird Lake.
"I think you have to, I mean the temperatures are in the 100's and the lake, it's cool," said Stafford.
EMS officials say so far this year there has been one confirmed heat related death. It was the death of the 3-month-old inside of a hot car just last week in Austin. Officials say they don't want that death toll to climb, with such a preventable illness.
"Every summer it feels this way, it gets pretty hot and we're always concerned about our citizens. Hydrate with water not soda or tea," said Raul Hernandez, Commander, Austin-Travis County EMS.
Hernandez says there is a common misconception about going into the heat.
"They do think I can be out there all day it's not a problem," said Hernandez.
Athletes are a particularly vulnerable group this time of year. Football is just starting  around Austin, and players are gearing up and braving the hot temperatures.
We're going to practice up tempo, get them off the field and we have water all around and the kids will be pretty safe.
There is a difference between heat illness and heat stroke. If you feel the symptoms of heat illness, get in a cool place right away.
"You're going to have cramping, you're going to have dizziness, you're going to feel faint," said Hernandez.
The next step in the grisly process is heat stroke. That's when the body can sizzle its way to 105 degrees and cause seizures, which leads to death. If you see someone who might need the help, call 911 immediately.
"Move them to a cooler environment. Put them somewhere where there might be a fan or air conditioning," said Hernandez.
Summertime is for fun and outdoor adventures, but emergency workers are warning everyone to take the heat threat very seriously.