Family remembers fallen San Marcos Police Officer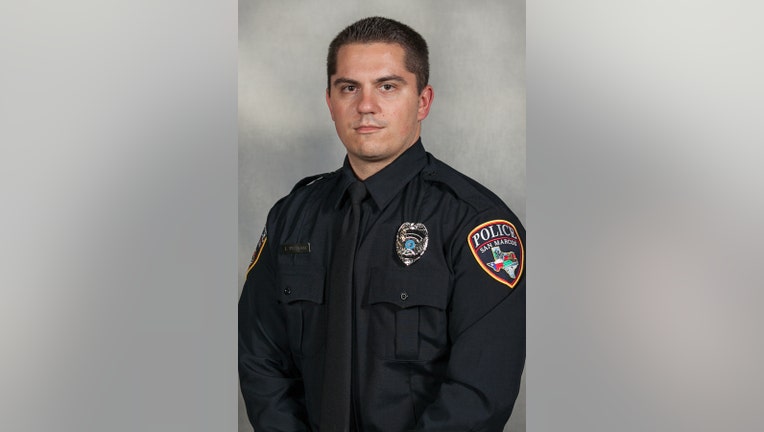 SAN MARCOS. Texas - Its been one week since San Marcos Police Officer Justin Putnam was shot and killed while on duty. His family has now gone from planning his wedding to planning a funeral.
"He called himself a simpleton. All he needed was like, you know, like a beer and a backyard," said Kelsea Putnam.
Blair and Kelsea Putnam say their big brother, Justin, was hilarious.
RELATED: San Marcos community mourns officer killed in ambush shooting
"He always bought the weirdest, most random things that he found so hysterical. I remember he had this cowboy hat that had a solar panel on the top that would power a fan to cool his head while he was mowing the lawn like, who thinks of that," said Blair.
They say their brother was so much more than just a fun guy and agree he was their family's protector so it came to no surprise when he became a San Marcos Police Officer.
"He always wanted to protect all of us and I think that really led him to what he wanted to do, to protect his community," said Kelsea.
They say their brother was so proud to be a police officer. It never even crossed their mind that one day they might get a call that would change their lives forever.
"My mom called my dad and my dad fell to the ground, and I was like, what's wrong? what's wrong? He said, 'Justin's been shot'," said Kelsea.
Officer Justin Putnam was shot while responding to a domestic dispute call. He and other officers were ambushed. Officer Putnam was killed.
RELATED: Fallen San Marcos PD officer makes final trip home, public invited to pay respects along route
"It's unreal. I was like we have a wedding coming up, like he's got to be alive," said Kelsea.
Later this year, Officer Putnam was set to marry his girlfriend of 10 years. Both his siblings were supposed to be in the wedding.
"To go from planning a wedding in five months and going to now having to plan a funeral is just, it's not right," said Blair.
Since then, a memorial and procession were held in Officer Putnam's memory. Both brought hundreds of people down to pay their respects. 
"It was such a testament to this state and its people. Texans are Texans till we die," said Blair.
These two siblings say life won't be the same without their beloved brother, Officer Putnam, but say his memory will linger on.
"He wanted to make [people] better. He wanted to help [people]. That was his goal of being a police officer and that's what he did," said Blair.
Because of social distancing protocols in place, Officer Putnam's family will hold off on funeral plans for right now. They say they want to make sure he has a proper burial and goes out in full honor.