Fort Hood soldiers among nine people arrested in child solicitation sting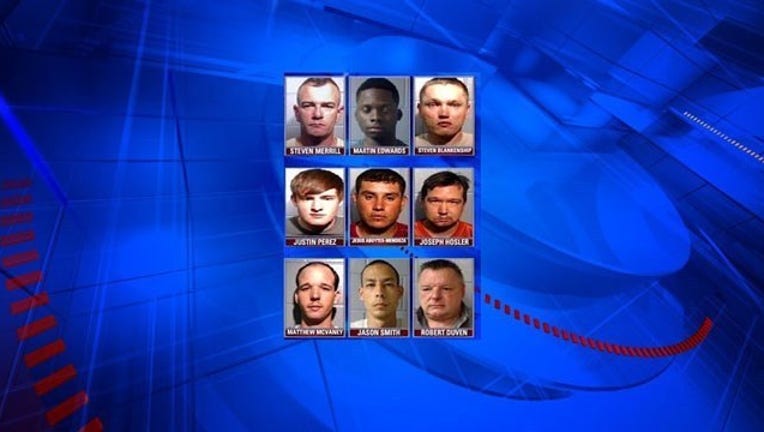 article
On any given day, investigators with the attorney general's office go into a secured work area and pretend they are children. The child exploitation unit trolls the internet looking for predators. Monday morning Attorney General Ken Paxton announced the latest catch with a promise.
"We are going to continue to work, try to get this people off the streets and put them in jail.
The Copperas Cove Police Department was part of the latest sting operation which took place over a three day period last week. The nine men who were arrested are from the surrounding area; among those caught: Joseph Allen Hosler.
He worked with the Boys and Girls Club of Central Texas. A spokesperson told me Hosler is no longer an employee. He would not say what kind of job Hosler had or if he had worked with children at the club.
Its a risk investigators say they are looking into.
"We are always concerned about that when we arrest people who have this proclivity and we look at that as part of the ongoing investigation," said David Maxwell with the AG's Law Enforcement Division.
Three Fort Hood soldiers were also arrested in the sting. They include 1st SGT. Steven Lee Merrill , SGT. Steven Anthony Blankenship and PFC. Martin Kenneth Edwards. Officials at Fort Hood say the jobs the three soldiers have do not involve direct contact with children. One is a combat engineer, another is a transportation coordinator and third works with communications equipment.
It's expected the soldiers will also face a military investigation. Prosecutors could handoff the three and let the army deal with them, but Coryell Count District Attorney Dusty Boyd isn't planning on doing that yet.
"There is nothing in this case so far that would suggest that, we do that on a case by case basis, generally. If we have a case that either jurisdiction can take we usually cooperate and communicate with who gets that maximum return for the prosecution."
The other 5 arrested in the sting include; Justin Logan Perez, 21, of Harker Hights; Jesus Antonio Aboytes-Mendoza, 27, of McGregor; Matthew John McVaney, 21, of Copperas Cove; Jason Lee Smith, 34, of Troy; and Robert Thomas Duven, 51, of Killeen.
Most are now free on bond.