Veterans Day: Georgetown Field of Honor kicks off commemorations
GEORGETOWN, Texas - Behind Georgetown's Hammerlun Center, or old high school sports field off University Avenue, is a sea of red, white, and blue.
"When the question is asked, 'who among us would make a personal sacrifice on behalf of their fellow Americans?' The answer lies in the field we see before us," said U.S. Navy Rear Admiral Christina Alvarado.
Each flag represents a person who served in the military or as a first responder. There are about 1,500 flags planted across the grounds.
"It just makes me proud," said Matt Reardon, U.S. Air Force. "It makes me proud of my service. It makes me proud of all the other men and women who have served. It makes me proud of my country."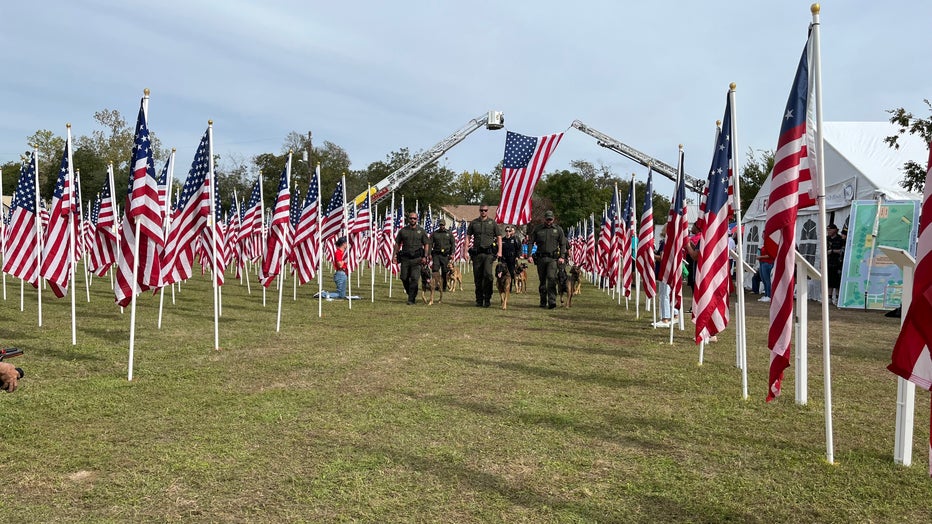 Behind the ripples of Stars and Stripes is Jeanne Cox, the chair of the Georgetown Field of Honors.
"When people ask me, 'If I've ever served in the military, was that my motivation?' I said, 'No. I am not a veteran, but I raised a really good one.'"
Her daughter is the reason she said she keeps the tradition going.
"Every time that I think that I'm tired, or you know, why do I keep doing this?' because it takes a lot of time and energy as a retired person, I remember her sacrifice and that of so many other people," said Cox.
Cox said the Field of Honor has raised about $200,000 over the last six years for veteran and first responder organizations that help with PTSD, suicide prevention, and family support.
"We can't forget them," said COX. "They are the people that protect us, and they serve for us, and they make it possible for us to have the freedoms we have in this country."
The flags will remain up until Nov. 12.
There will also be a Veterans Day ceremony on Saturday, Nov. 11 at 11 a.m.