Floating border wall announced by Texas governor as border security legislation signed
AUSTIN, Texas - Gov. Greg Abbott held a bill signing ceremony for a series of border security bills passed during the recent Legislative Session at the Texas Capitol Thursday afternoon.
The package of six bills signed into law expand the authority of military and border patrol officers, authorize the Governor to execute an interstate compact for border security without congressional approval, and designate Mexican drug cartels as foreign terrorist organizations, among other actions.
The governor also announced a new border defense concept at the end of the signing ceremony.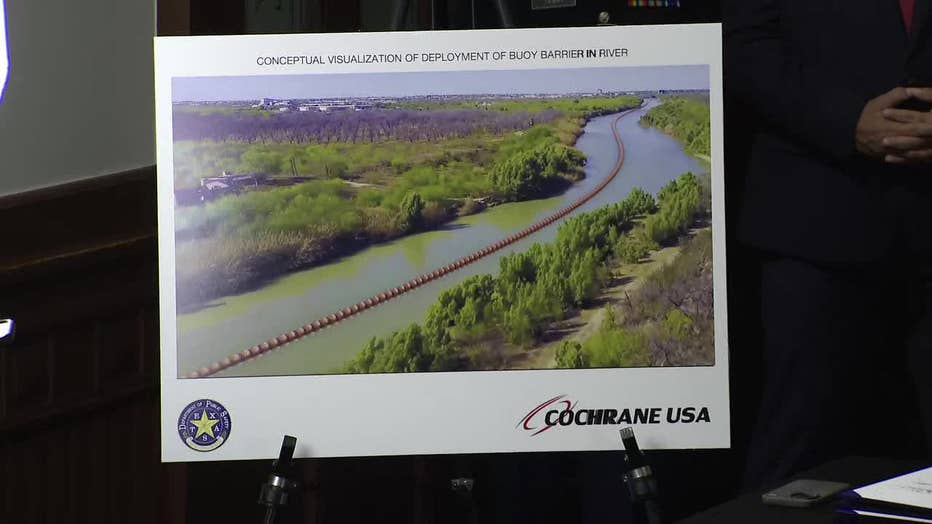 Conceptual visualization of new marine floating barriers at border. ( )
A long line of marine buoys are going to be put into the Rio Grande. Images of this floating border wall were presented at the bill signing ceremony.
"We're securing the border at the border," said Governor Abbott.
The link of buoys will not run the length of the border between Texas and Mexico. The first section will be a thousand feet long, that's about 3 DKR football fields put together, end zone to end zone.
The section will initially be located near Eagle Pass and will start going into the water around the first week of July. Underwater netting may also be installed as part of this new barrier.
"These are about four feet. That can be six feet depending on the water. It can be a different height. They're actually been used overseas and for marine barriers to be in a bay to protect it along those lines. So it's not like it's something that that hasn't been deployed before. It's buoyant, which is important if you're talking about the floodplain. It doesn't create, you know, an offset in the water," said DPS Director Steve McCraw.
The buoys can be relocated, and more sections may be purchased. The first part is expected to cost under a million dollars, McCraw said.
"The whole idea, though, is something we can do quickly. We can put it there. And it deters large groups of people from moving in that area. We can control it with it, along with the deployment of razor wire and a sufficient number of soldiers and troopers. You know, it's an in-depth defense," said McCraw.
McCraw and the Governor admitted some migrants will still be able to get past the floating wall.
"A phrase that Colonel used moments ago was a layering effect. When we're dealing with gatherings of 100, or 1000 people, that one of the goals is to slow down and deter as many of them as possible. Some will, some, may eventually get to the border where they are going to face that multilayer razor wire and a full force of National Guard and DPS officers, which they will not be allowed to pass," said Governor Abbott.
The strategy hopes to prevent illegal crossings between ports of entry along the river by making it more difficult to cross the Rio Grande and reach the Texas side of the southern border.
The first 1,000 feet of the marine floating barrier will be deployed near Eagle Pass.
RELATED COVERAGE
The six bills signed into the law include:
Senate Bill 423, which provides Texas military forces the authority to use unmanned aircrafts as part of an operation, exercise, or mission. The bill legalizes the use of drones for search and recovery missions after natural disasters and for monitoring the Texas-Mexico border as part of Operation Lone Star;
Senate Bill 602, which expands the authority of U.S. Border Patrol agents who have completed a DPS training program to include arrest, search, and seizure at established border checkpoints and points of entry for felony offenses under Texas law. Current law only allows agents to detain certain individuals at these locations;
Senate Bill 1133, which creates a grant program to compensate agricultural landowners up to $75,000 for property damage caused by trespassers committing a border crime, such as the smuggling of persons, evading arrest, human trafficking, or a drug offense. Increased migrant traffic and law enforcement activity has left many landowners with significant financial losses and property damage;
Senate Bill 1403, which authorizes the Governor to coordinate and execute an interstate compact for border security among interested states without congressional approval. The compact will allow participating states to share law enforcement intelligence and resources for heightened detection and deterrence of illegal border activity and will further protect personnel and property to overcome continued shortcomings of existing federal border policy;
Senate Bill 1484, which creates a collaborative border operations training program through DPS for peace officers employed by local law enforcement agencies along the border. The bill will allow DPS to share expertise in identifying and preventing of transnational criminal activity to local authorities; and
Senate Bill 1900, which designates Mexican drug cartels and criminal organizations as foreign terrorist organizations in the State of Texas and increases penalties for the destruction of illegal drugs and the operation of stash houses. This bill also adds foreign terrorist organizations to current intelligence databases and allows local entities to seek public nuisance claims against them.
The governor was joined by Texas Department of Public Safety Director Steve McCraw, Adjutant General of Texas Major General Thomas Suelzer, bill authors and sponsors, as well as other legislators and law enforcement members.