Heart & Soul Care pairs volunteers with seniors for "companionship calls"
AUSTIN, Texas - Technology can help us stay connected even in times of separation. Heart & Soul Care in Austin has started what they call "companionship calls" that pairs volunteers with "senior loved ones." 
Jennifer Emerick and her husband Ian Pedersen were volunteer musicians for hospice centers in Seattle, and moved to Austin three years ago. They recognized the senior community needed more creative emotional and social experiences. 
"His experience with his mom who has really advanced Alzheimer's who lives really far away he always wished he could do more for her he knew she was isolated and in a home and he wished there was some way he could send her a joyful experience even being miles and miles away," Emerick said.
RELATED: TIMELINE: Texas' continued response to COVID-19 pandemic
So in 2019, they started Heart & Soul Care, an online platform that pairs artists and musicians with "senior loved ones" in-person. When coronavirus hit the United States, they had to end in-person experiences. 
"We knew we could rally phone meetings virtually through video and phone calls," Emerick says, adding that the volunteer response has been amazing.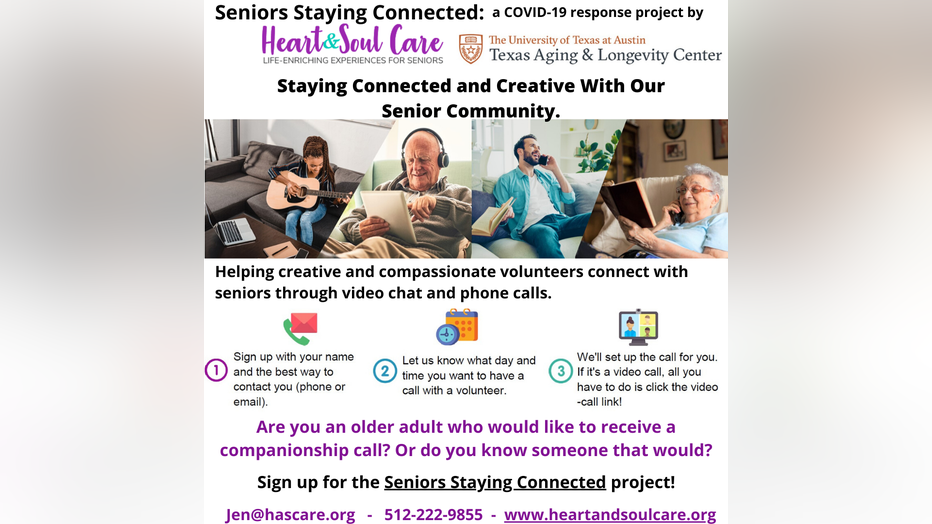 Companies participating in the Seniors Staying Connected project include:
Texas Aging and Longevity Center  
UT Steve Hicks School of Social Work 
UT School of Nursing and School of Information
Big & Mini  (UT volunteer buddy-program pairing older adults and younger generations)
"We're having challenges with connecting directly with seniors in the community to let them know about this program that we have so what we are trying to do is get the word out to family members or caregivers who have concerned about their aging loved ones who may be isolated and lonely so maybe they can help bring those seniors in the program," she says. 
RELATED: LIST: Confirmed coronavirus cases by county
Emerick says that currently, they have more volunteers than older adult clients participating in the program. She also says nothing touches the heart more than knowing you're touching someone else's. 
"It could be the same conversation you're having over and over every two minutes but it's important to just be present and be there for the older adults because they may be a little confused but one thing we always know, when it's somebody talking to them and listening to them and engaging it really doesn't matter the conversation because you can feel the energy of somebody caring," Emerick said. "You're not alone, we want to engage with you and what's going on in your life. So the content is less important."
Anyone who would like to volunteer can call 512-222-9855 or email info@hascare.org
CLICK HERE FOR THE LATEST INFO ON THE CORONAVIRUS OUTBREAK
FOX 7 Austin is working to keep you up to date with coronavirus, with both local and national developments. Every weekday we're live at 1 p.m. with a special show reporting the latest news, prevention tips and treatment information.
You can watch live in your FOX 7 Austin app or on the FOX 7 Austin Facebook page.
You can also get the latest COVID-19 news from around the country at coronavirusnow.com.