Loved ones, community mourn loss of Jarrell firefighter
JARRELL, Texas - Loved ones and community members are honoring the life of 25-year-old Jake Owen, a Williamson County ESD 5/Jarrell Fire Rescue firefighter who died from brain cancer on Oct. 2.
Chief Ron Stewart said Owen was most passionate about three things.
"His family said people need to understand he had three loves: the Lord, his family, and the fire service. He loved being a fireman," Stewart said.
Stewart says Owen's father is a Georgetown firefighter, and Owen decided right out of high school that's what he wanted to do, joining the Fire Academy after graduation. 
He started working at Williamson County ESD 5/Jarrell Fire rescue in 2018. This week would've marked the fifth anniversary since he was hired.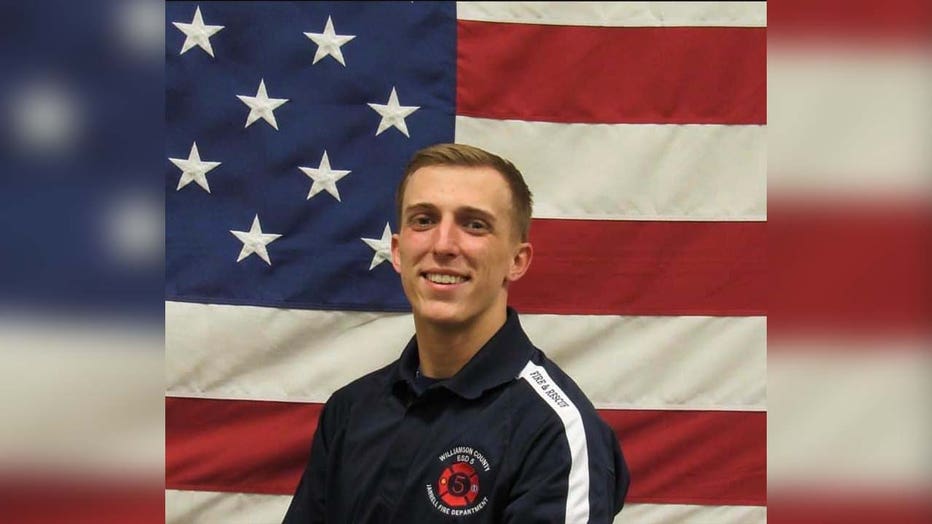 Williamson County firefighter Jake Owen died from brain cancer on Oct. 2
"Because he got in early and because he had a little foundation of knowledge of firefighting, he really excelled. He was an amazing firefighter," Stewart said.
He was promoted to engineer and wanted to be an officer.
"I have no doubt he would have been an officer and would have been an outstanding officer within our department," Stewart said.
Stewart says Owen's family is thinking about starting a foundation in his name for scholarships for future firefighters.
"They hope that, you know, being at that service will inspire somebody else to want to be a firefighter also," he said.
Owen went home sick in January of this year. He had a headache and ended up battling brain cancer. After going through surgeries, chemo, and radiation, he was able to be at a welcome ceremony in February for the department's new aerial ladder, which he was supposed to be a driver on. 
The fire station was where he wanted to be. 
"His dad says outside of being at home with his family, this is where he always, 'can we go to the fire station today? Let's go see what the guys are doing,'" Stewart said.
The department also had fundraisers for him throughout the year. They remember him as a loving, kind, and gentle soul.
"Jake taught us through his battle with cancer how we should be living. You walk into the room, and he would smile at you, walk into the room, and he'd say, 'how you doing?'" Stewart said.
Owen was moved to a Belton funeral home this week, where loved ones are preparing for his memorial service. 
"It's made a very tight brotherhood within our department even tighter, even closer," Stewart said.
The following information about visitation and services is posted on the Williamson County ESD 5 Facebook page.
The following is from the Facebook page:
"LYING IN STATE
The visitation is not traditional in the sense that it will be for a small window with family receiving visitors. It's more like a lying in state for visitors.
This will be Thursday, October 5 from 8 a.m. to 5 p.m. and Friday, October 6 from 8 a.m. to 1 p.m. at Crotty Funeral Home in Belton Texas.
Visitors may arrive anytime during these hours to show their respects to Jake and sign the register.
Fire service guard will be present, but they are there to help visitors as needed, please feel free to interact with them while vitiating Jake. They are happy you are there and willing to assist in any way.
SERVICES
Jake's services will be Saturday, October 14 starting at 3 p.m. in Lorena at the high school performing arts center.
This service is open to anyone who wishes to attend.
FIRE APPARATUS PROCESSION & COMMUNITY HONOR LINE
Fire departments going to Lorena from Williamson Co will be asked to stage at Jarrell High School beginning about noon and the procession including will leave for Lorena along a route to be determined.
As a show of support Jake's family and as a final honor to Jake Owen community members are asked to line to route departing town.
The route will be determined and posted as soon as it's confirmed."