Kansas residents clean up but more storms forecast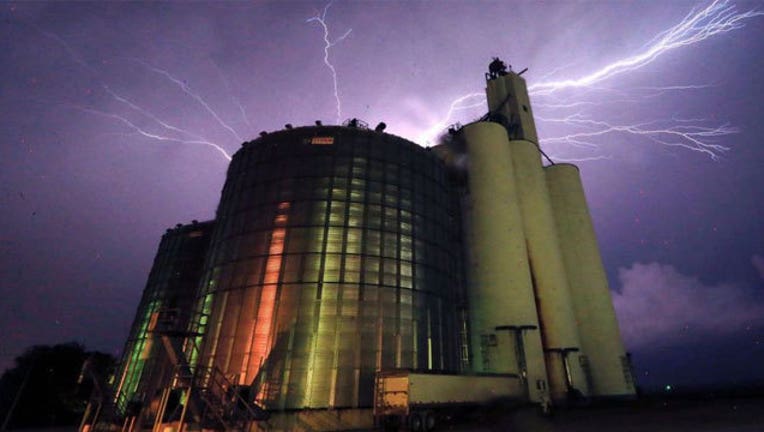 article
CHAPMAN, Kan. (AP) — Kansans cleaned up from a series of tornadoes Thursday, including a monster storm that rumbled across the landscape for 90 minutes, while forecasters warned that the state would likely see more bad weather later in the day.
A storm near Chapman, 140 miles west of Kansas City, Kansas, was on the ground for 1½ hours Wednesday night, but moved so slowly that it covered only about 23 miles. The twister damaged or destroyed about 20 homes but edged past Chapman's southern side after forecasters declared a "tornado emergency" for the town of 1,400. There were no immediate reports of injuries or fatalities.
A survey team from the National Weather Service office at Topeka said on the office's Twitter account the storm had winds up to 165 mph. Damage was rated at EF3 on a scale of tornado strength; EF5 is the highest.
The Storm Prediction Center said more bad weather was expected later Thursday, and the Norman, Oklahoma-based office said much of Kansas faced a "moderate risk" of severe weather, including storms with winds exceeding 136 mph.
"The unusually favorable thermodynamic environment, coupled with increasing large-scale forcing and wind fields sufficient for supercells, suggests the risk of strong tornadoes and very large hail," forecasters said at mid-afternoon.
Northwestern Oklahoma could also see twisters later Thursday.
Paul Froelich, Dickinson County fire district one chief, said six homes were considered total losses, but that things could have been far worse.
"It's amazing how this tornado missed those centers of population," Froelich said. "And we had outstanding early warning on this. ... People knew well in advance of this storm. Consider also, this is Kansas. This is Tornado Alley."
A typical tornado dissipates within 10 minutes after losing the proper balance of winds flowing into and out of the storm. Tornado researcher Erik Rasmussen of the University of Oklahoma said Thursday that conditions were right to keep the Chapman storm churning — no storms were nearby to disrupt it.
A twister at Chapman June 11, 2008, tore a path of destruction six blocks wide. Officials said one woman died, 100 homes were destroyed or heavily damaged, and 80 percent of the town was damaged.
The rough weather continued early Thursday in western Iowa, where winds gusting to 87 mph knocked over more than a dozen rail cars and toppled trees. No injuries were reported.
On Tuesday, tornadoes in western Kansas injured at least two people, and one person drowned in central Oklahoma amid heavy rain. In Arkansas, a 13-year-old boy was found safe three hours after falling into a flooded drainage pipe.