Texas family comes home to find it destroyed by house party
AUSTIN, Texas - A Northwest Austin family wants to know who trashed their home during a "mansion rager" this past weekend while they were away. 
The family said no one was invited to their home, but hundreds of kids showed up and made it their own for the night.
"We started receiving numerous phone calls from our neighbors that there were kids on our water tower on our property, there were cars up and down the street, and kids were hopping over the front of our fence," the homeowner said.
He quickly drove to his home to see what was going on.
"When I came into the neighborhood there were just car, after car, after car just trying to flee the scene," the homeowner said.
He said he was shown a flyer that said "Mansion Rager" with his address on it. It had apparently circulated on Snapchat, but no one was invited by him to come to his home.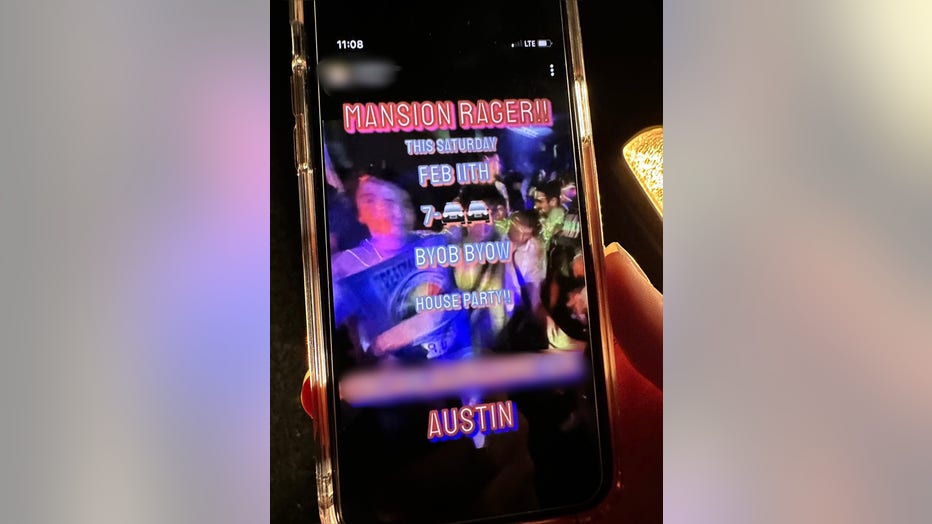 A flyer with the home address of a Northwest Austin family allegedly circulated the social media platform Snapchat, inviting teens to the home for a party.
"It was horrifying. I mean, it was just unbelievable total violation of one's privacy," the homeowner said.
When he pulled up to his home, the gate out front was broken, so was the garage, all the lights were on, and the front door was wide open.
"They had beer cans, the seltzer cans, like White Claw, I saw they had thrown like avocados at the wall, there was damage to sheetrock and baseboards. They had thrown tools through the sheetrock of in our garage. They had my daughter's toys scattered around the property," the homeowner said.
MORE NORTHWEST AUSTIN NEWS
He said hundreds of kids had come from all over.
"We have some articles of other kids that were out on the property, and it was from all the major high schools in the Greater Austin area. It was West Lake High, Vandegrift, Lake Travis, and Bowie, those are for certain," the homeowner said.
He said he didn't know who would have started this party.
"We only have a two-year-old toddler. They are not in the school system, so this wasn't a case of just the parents are out of town, or you know we have a child where this was a joke or something," the homeowner said.
He said it was a blatant break in and whoever was involved is facing several charges.
"There seems to be little consequences for these actions, and I feel like it'll keep getting worse if we don't get to the bottom of things like this," the homeowner said.
The Travis County Sheriff's Office is investigating. If you have any information, call 512-854-1444.